Stop me if you've heard this one: What a world we live in.
Speaking as a seasoned, schooled, marginally flawed member of the human race, I have of late been watching the movements of humanity with worried, widened eyes. This was not by choice, really. Recent, domain-shifting global crises and changes in our behavior have demanded some navel-gazing.
What I noticed with this increased scrutiny was dizzying: Contemporary humanity is grizzled, tenuously held together. We are infighting at maximum volume. Violence persists. Epidemics once thought dead have effortlessly risen from the grave. The concept of acceptance has been gradually eclipsed by intolerance. "Social media" has ironically mutated into the most anti-social of spaces: Once lauded as a magical tool of globalism and the sharing of ideas, it has bred bullying and divisiveness, and has seen humanity fire out sharp-tongued words so devastating and massive in volume that it can no longer be measured, or contained.
And then: There is the spectre of technology. Oh, how technology has helped us. But, oh, how it has worked against us too, thoroughly distancing us from one another, and in some cases, replacing us. Bots. AI. Automation. Robots performing daring feats once thought to be uniquely human. It would seem the interpersonal, rich human experiences we have come to expect in our daily lives, as customers and as people, where our baser needs are met (to be seen, heard, understood, and cared for), are scarce.
Apologies for the alarmist tone, but the alarms must be sounded: Unless we proactively engage with other human beings on a meaningful level, and unless we take moments to find examples of kindness, good service, and good Samaritans, we may be well on our way to becoming a fractured, isolated people. And it will be lonely.
That being said, it's not all bad. Luckily there are shining examples of individuals who, through their empathetic, supportive, and engaging customer support habits, provide evidence of good in the world. They are not bots. They are humans. More specifically, they are the Humans of Customer Service.
Humans of Customer Service is a new initiative, powered by Fonolo and contributors like you, that profiles and pays homage to individuals providing exquisite customer services and experiences across the globe. While social media has certainly become the latest place for frustrated customers to provide feedback to businesses with less than stellar customer service, we at Fonolo think it can also be a place to celebrate those who are getting it right. And you can be a part of it, too.
#Winning: How to Nominate a Human of Customer Service
Jog your memory for a moment: Can you think of someone who makes your life easier, provides you with a smile, delivers as promised, and generally improves your experience on this planet with the service they provide, big or small? If so, they are a Human of Customer Service, and you can nominate them by following a few simple steps:
Think About It: Has a barista, bartender, bus driver, flight attendant, stylist, contractor, plumber, dog-walker, or anyone else in your life improved your day and delivered the best customer service you can think of? If so ….
Get in Touch: Contact us via stories@humansofcustomerservice.com, Facebook, Instagram, or Twitter.
Get the Goods: Provide us with your nominee's name (first and, if possible, last), company, and a short quote describing how this person is the greatest in the business. Include a high-quality photo of your HoCS nominee doing what they do best.
Watch: Stay tuned to our social channels to see you and your HoCS nominee featured!
Wait (and Maybe Win): Every year, we review each submission and select an overall winner for our Humans of Customer Service Award. If selected, both you and your customer service hero win a generous award, online recognition, and an interview on our industry-leading blog.
There is much to fear in these dizzying times, but we all know of someone who, through a simple gesture or two, brings back the humanity in the customer service experience. In this dark global moment, let's bring them to light, together.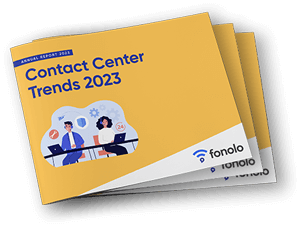 Trend Alert! Contact Center Industry Predictions for 2023
This report offers perspective on where the contact center industry stands today, plus our trend predictions for 2023.