Google made a major announcement at their "Cloud Next" event with the launch of Contact Center AI. It was the second time this month that the contact center world was rocked by a Google announcement. The first time was with the announcement of Duplex, an automated natural language system that could call companies, on behalf of a customer, and handle simple tasks like making appointments. Our coverage: No, Duplex is Not Going to Replace Call Centers.
Now Google is broadening the scope of its AI ambition and partnering with key members of the industry. This was a much more substantial and realistic announcement. Given Google's size and power in the industry, it's worth paying close attention.
The product is in trial phase ("Public Alpha" as Google describes it on their product page) and will be available to the partners by the end of this year. So I would guess we'll start seeing solutions deployed in the real world mid 2019.
The partner list is impressive, covering most of the big players in this space. Notably absent is Avaya, which is strange given how close Avaya and Google were just a few years ago. (Does anyone remember when Avaya's CMO held aloft a chrome book and announced that it was the future of the call center? Here you go.)
It will be interesting to watch how the Google relationship overlaps with the existing AI initiatives from call center vendors. For example, Genesys has put a lot of marketing juice behind "Kate". Will she take a back seat to Google's AI? Or, will Genesys start saying that Kate is "powered by" Google? Same question applies to Five9 and "Genius".
AI is a Frustrating Term
I've been annoyed by the loosey-goosey way that "AI" is used in our industry, but a definition for it seems to be hardening in place, and I don't see any alternatives on the horizon. So we might as well accept that the term "AI", in the contact center context, refers to a collection of these 3 areas:
Speech analytics (using NLP to extract intent and sometimes emotional cues)
Self-serve (in the form of text-based chatbots usually)
Giving just-in-time information to agents (by parsing large knowledge bases and using AI/ML to match terms to the current call)
Google's announcement hit on all 3.
The curmudgeon in me gets annoyed that a company can market itself as an "AI Customer Service" solution and can be any one of these 3 very different things. That kind of ambiguity is just bad for everyone. There has indeed been major progress in all 3 areas, and they all have some connection to AI, but it seems awkward to group them together under this contrived umbrella.
[There's a 4th, less common, application where AI is used to match individual callers with the agents that will yield the best odds of a having a good conversation. This is sometimes called "intelligent routing." See, for example, the Afiniti-Avaya partnership.]
Open Mind, But Skeptical
I've been generally skeptical of many AI claims in our industry. Google obviously brings a lot of weight to this space, their chief AI scientist is "rock star" who formerly led the Stanford AI lab. But on the other hand, this line jumped out at me from a piece covering the event:
"[It] can allow a business to replace its IVR completely, instead using AI to discern how to route a customer based on analyzing call intent" [Google Cloud product manager] Laqab said.
That seems a bit hand-wavy. If the existing IVR is forking callers between, say, "sales" and "service", how is AI going to discern my intent any faster than my pressing 1 or 2?
Further Reading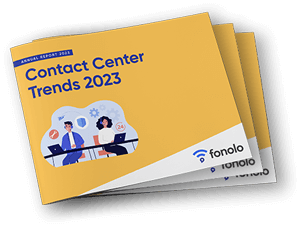 Trend Alert! Contact Center Industry Predictions for 2023
This report offers perspective on where the contact center industry stands today, plus our trend predictions for 2023.