Whether we're talking about relationships, leisure, or work, gender differences play a significant role in the way we interact with the spaces and places around us. It is, after all, a marker of identity that helps us make sense of ourselves, and the world. The way we engage with or provide customer service is no exception to that.
The hard truth is: Perceptions and gender, and gendered consumer habits, are real. Select service industries are traditionally dominated by either male or female service staff. For example, the flight attendant workforce today is predominantly female, a legacy lingering from the 1930s when nurses replaced young boys who had previously filled the role. Women were considered to be able to best care for customers and 'promote a female presence', one that would increase the perceived comforts and safety of flying (a decision thoroughly based on gender and its related consumer perceptions).
Currently, if you haven't noticed already, the global economy is shifting at an accelerated rate. For those of us interested in overall consumer habits in the customer service game, it begs the question: Will gender biases in customer service transform as well?
Gender Differences in Customer Perception And Satisfaction
Our reactions to service and our loyalty towards businesses and employees can vary based on our own biases towards and understanding of gender. Oftentimes, customers expect – and respond better to – service staff who are of the 'expected' gender in the business they are frequenting (like female flight attendants). Understandably, this makes customer satisfaction more complex than one would initially think. Perceptions of service standards and quality differ from customer-to-customer due to their varying perceptions of your brand, all based on their unique attitudes, beliefs, and personalities. Essentially, this means that it's often not even about the service or the gender of the provider, but really the perception of the customer. This is something that can be extremely difficult to control, let alone predict.
Gender Differences in Approaches To Providing Customer Service
Research has shown that male and female customer service employees react differently to work environments and job characteristics. Generally, women may experience higher levels of role ambiguity, and potentially more mental stress and emotional labour than men. However, women are generally more satisfied with their work, due to their gender-specific work expectations and understanding of their professional responsibilities. In light of this, it's no wonder that male and female customer service employees differ in what they believe constitutes "good customer service".
Optimizing Customer Service Strategies Around Gender Differences
So, how can contact center customer service representatives use gender differences and expectations to their advantage? Here are a few things to keep in mind when tailoring your content center strategies, each of which aligns with research in this important, albeit delicate, area.
Timing: When it comes to timing, men tend to prefer specifics, while women are likely to be somewhat more flexible in this area. That being said, it's important to give male customers specific options for things like wait times, call-back options, and other products or services. For instance, "We can have it ready by 4 p.m. today. Would you like to go over specs then, or would you prefer tomorrow morning at 9?" might do the trick. On the other hand, with women, saying something like, "It will be ready Monday or Tuesday," is much less specific, but will likely be satisfactory. Ultimately, it's good practice to under-promise and over-deliver – you'll thrill the customer no matter who they are.
Problem Solving: Men tend to appreciate rules and strategic processes for solving problems. Conversely, women welcome creative, outside-the-box thinking. Therefore, presenting male customers with guides and manuals as proven tools for solving problems often fairs well. For women, however, you may want to suggest several solutions or a few unique approaches, and then let them select what will work best for them and their needs. Generally, with women, a customized approach will win.
The Experience: Crafting a unique, seamless contact center experience plays a big role in customer satisfaction and retention. For men, calling customer service can often feel like a tedious, time-sucking task, whereas women tend to appreciate the opportunity to have new or better options presented to them during the process. That is, interactions with female consumers on a contact center channel may be a good opportunity for contact center agents to sell. This is why any type of selling — cross-selling or upselling — beyond what the female customer has specifically requested needs to be quick, efficiently executed, and easy. With female customers, you may have some extra time and leeway to introduce them to more options. Ask questions to uncover new or changing needs, and talk to them about products and services that meet those needs.
As a stellar contact center customer service representative, it's important that you arm yourself with as much information and insights into your customer base as possible. Research on demographics, such as gender, can help inform your call center strategies, improve your sales or customer retention, and help make customers feel great about doing business with your company. But as much as you consider things like gender, location, income-level, and age, remember one important thing:
At the end of the day, you're dealing with human beings. Treat them all with care, consideration, and respect. That wins every time.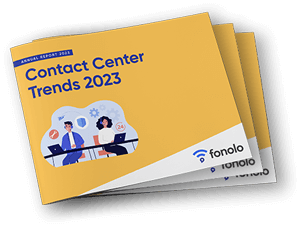 Trend Alert! Contact Center Industry Predictions for 2023
This report offers perspective on where the contact center industry stands today, plus our trend predictions for 2023.