It's a noisy little planet we live on. In contemporary times, the deafening sounds of the outside world via the news, social media, the subway, the radio, the street, and even the phone lines can distract us from our long-term professional and personal goals. It's simply become too loud. This is especially true for those of us involved in the cacophony of contact centers; we are essentially the appointed, trusted 'brand listeners' who hear many, many voices on a given day, including those of both customers and colleagues. Taking in the noise is part of the job, and we're good at doing it.
But if we momentarily dial the sound down, we are rewarded with a) some mental clarity; and b) the sweet, sweet sounds of intelligent, helpful voices who deliver some music-to-our-ears advice on how to survive and thrive in 2018 and beyond. Here, experts and influencers in the CX and CS industries give us incredibly valuable soundbites on best practices, boosting morale, improving performance, implementing technology, building partnerships, and delivering a well-orchestrated customer support offering to your burgeoning audience of customers.*
Contact center professionals? Turn your podcast down, and turn this article up to eleven.
Sheri Greenhaus – Managing Partner CRMXchange
"Being in the contact center industry for over 30 years, I have seen amazing advances in technology. I remember when 'telemarketers' were working off of flip charts, QA was through a Dictaphone recorder, and reports were done by tick sheets. Technologies that originally appeared futuristic became commonplace. For years we have been preaching that it is the whole experience, including back office and billing, that the affects the customer and we are gratified to see that organizations have come this realization. However, technology will not make anything better unless the correct processes are place and leadership truly values the customer. The one item that is consistent, and should never change, is treating the customer with respect. My friend and call center trainer, Judy McKee, said something years ago that stuck with me, "Never make the customer feel wrong or stupid." We call it the 'golden rule' of customer service. We are all customers for something. Think about how you want to be treated, and treat your customers accordingly."
Learn more about Sheri and CRMXchange here and here.
Bill Quiseng – Customer Service Expert, Speaker and Blogger
"You cannot satisfy customers with disengaged employees. Start there first. Are you maintaining an employee experience just as robust as you want to deliver for your customers? You should consider onboarding, continuous training, career development, work-life balance, rewards and recognition, and soliciting feedback. Every manager should be asking at least one employee every day, "What are you hearing?" and "Is there anything I can do for you?" Your employees know 100% of your customers' frustrations and complaints because they hear about them all day long. Leaders, ask yourself: Do you find out what those issues are to eliminate them? Are [agents] equipped with the right tools and information? Are you removing the roadblocks towards their empowerment to fix what your customers are saying is broken?"
Learn more about Bill here and here.
Annette Franz – Customer Experience Consultant, Speaker and Author
"I'll offer up two pieces of advice on how to motivate your contact center team. First, no good advice about this topic can avoid the fact that you must first find out what motivates each individual. Different people are motivated in different ways – some by money, others by non-monetary drivers. First and foremost, take the time to listen to your employees and uncover what inspires them to do a great job. Second, I think it's important to let employees know how they contribute to the success of the business; make sure they always understand how their work matters – to the customer and to the company. Without that knowledge, they often struggle with doing what's right for all involved."
Learn more about Annette here and here.
Jeanne Bliss – CCO Pioneer, Keynote Speaker, Author and Consultant
From her latest book, Would You Do That to Your Mother?: "The authenticity of [meaningful human] connections, people's ability to really help, and the front line's respect for the customer—because they themselves are respected—are now more critical than ever. "Doing" human interactions well in an increasingly self-service world will set you apart. Companies that are putting in the work to enable this change are reaping the rewards. Mercedes Benz USA, for example, began taking this approach in their Customer Assistance Centers, enabling call center reps to balance standard operating procedure with information about the customers they assist. In many cases, the informed exceptions they made lead to increased advocacy and a more profitable customer."
Learn more about Jeanne here and here.
Shep Hyken – Customer Service and Experience Expert, Author and Keynote Speaker
"When a customer calls a contact center, they want knowledgeable representatives. More than just knowledge about the products, services, and solutions that the company offers, the customer wants the rep to be knowledgeable about them; what they've bought in the past; why they've called in the past; and more. Knowledgeable reps know their products and their customers."
Learn more about Shep here and here.
James Dodkins – Customer Experience Rockstar, Author and Keynote Speaker
"For many companies, a customer's first actual interaction with them is with a contact center. I like to think of customer experiences like rock songs. Your first interaction is like the introduction to your song. Ask yourself the question, "If the intro to this experience was the intro to a rock song, how likely is it that the customer would listen to the whole song? How likely would they be to listen to the track again, and how likely would they be to tell their friends about the song?" Have you ever called into your own contact center and tried to navigate the options? If the answer is 'No', then maybe you should. If a customer is unlikely to even get through the first song, how likely are they to listen to the whole album? The answer is 'Not Very'. In business, just as in life, first impressions count. And for many, your contact center is responsible for this. Make sure you design your contact center experiences like the best rock song introductions: Have impact, have purpose, and be memorable."
Learn more about James here and here.
Jon Arnold – Technology Thought Leader, Analyst and Speaker
"In terms of the best technologies to adopt, I have a tactical and a strategic response for the contact center. On a tactical level, messaging is now a must-have channel, but the technology must have enough intelligence to seamlessly migrate a voice inquiry to messaging on the fly. The business value won't be based on simply being a standalone channel – rather, it must integrate with other channels so agents can truly provide a multichannel experience. Strategically, contact centers need to start exploring AI, especially for real-time conversational engagement. This must be done thoughtfully, but AI represents great potential not just to improve self-service, but also optimize the use of your agents."
Learn more about Jon here and here.
Shaun Belding – CEO, The Belding Group of Companies, Customer Experience and Leadership Expert
"Customer service continues to transform before our very eyes. With the rapid growth of AI, the continued emphasis on self-serve solutions, contact centers will need to become increasingly skilled in service recovery and conflict resolution. These are the times customers need humans the most. Research tells us that effectively dealing with negative situations is core element in creating "Wow" experiences and customer loyalty. Dealing with difficult situations needs to be a dominant component of all customer service training and coaching."
Learn more about Shaun here and here.
Bruce Temkin – Customer Experience and Leadership Visionary
"Contact center agents may not be the most highly paid employees in your organization, but they can significantly impact your success. You may have senior executives driving marketing and branding strategies, but in many instances, AGENTS ARE YOUR BRAND. Customers often interact with contact centers when they are unhappy, concerned, or confused. These emotional situations create "moments of truth," interactions which disproportionally impact the long-term loyalty of those customers. Rather than focusing on the direct costs of a contact center interaction, companies would be better served to examine the lifetime value that is created or lost because of those interactions. With that enlightened perspective, companies would likely spend more on training and engaging their agents, and investing in tools to help them become stronger brand ambassadors."
Learn more about Bruce here and here.
Neal Topf, Callzilla President, and Customer Experience Expert
"(1) Become really close with vendors, and make the good ones your partners. They have the technology we need, and the expertise and infrastructure to develop this.
(2)  Automation is King, but so is context; not everything can be automated. Become good at automating a few things and know in each of your lines of business what those things should be.
(3) Live agents matter now more than ever. Know what and how to utilize them, and treat them well so the good ones don't leave. Employee satisfaction is the barometer of our business."
Learn more about Neal and Calzilla here and here.
Shai Berger, Co-Founder and CEO, Fonolo
"My top advice for contact centers is to invest in the morale of the support team. It's not an easy job being an agent. It's tempting to focus on the ever-changing technologies available to the contact center, but no technology will help if the people interacting with your customers are unengaged."
Learn more about Shai and Fonolo on Twitter and on the Fonolo website.
*Quotes appear in no particular order.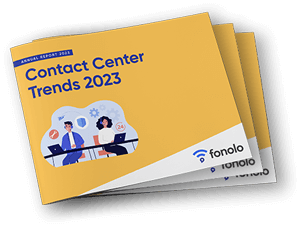 Trend Alert! Contact Center Industry Predictions for 2023
This report offers perspective on where the contact center industry stands today, plus our trend predictions for 2023.