Listen: We can learn a lot from cartoons.
I can think of few better examples than The Simpsons, an arguable work of art now approaching its 30th year on air. With never-ending talent churning through its writer's room, the show is regarded not only as a universally-identifiable comedic cartoon but also as a source of critical commentary on human behavior. The Simpsons' critique often includes the fallible organizations or institutions we interact with in our lives: restaurants, bars, lawyer's offices, schools, government agencies, our homes, and even our own workplaces (and more). Additionally, the Simpsons' writers have developed memorable, well-written characters (some ironically without character) who through their foibles reveal the 'stuff' of humanity, especially its silliest and weakest parts.
Really, The Simpsons casts a net so far-reaching that anyone can glean some life lessons from its impressive body of episodes and the minutia of its gags. As customer service is ultimately informed by human interaction, it is necessarily a part of the fabric of the show, woven into each storyline even in the subtlest of ways. As such, it offers an overwhelming amount of lessons for CS professionals, be they managers or agents. Here, in part one of this series, we outline three major lessons we can take to heart from this iconic, globally-lauded show.
People: Be Personal
Whether you're toiling away in a retail, financial, or health services setting, treating customers with humanity (making them feel seen, heard, understood, and engaged with) is a sign of intelligent, strong customer service performance. While delivered tongue-in-cheek, The Simpsons has done an exquisite job of creating memorable service spaces in the fictional Springfield that are so identifiable, and filled with such character, that we ourselves would visit them if we could (this week, one such space became a reality). In these imagined service spaces, the characters interact meaningfully and personally and, even though they are outside the home, the personal nature of the customer service experience allows them to be their flawed, human selves. This humanity, satirical as it is, makes for repeat business.
And the service "agents" are personal, too, which contributes to a unique customer-agent rapport. I think fondly of characters like bartender Moe Szyslak, who has a heart-on-sleeve, authentic way of relating to his customers by tapping into his own darknesses and hang-ups, connecting deeply (and lucratively) with bar regulars like Barney, Homer, Lenny and Carl, and providing comic relief for customers by falling for the same Bart Simpson prank-call jokes for many, many years. While the products he offers aren't always up to snuff, and the concerning introspection he openly shares is TMI, the personal touch and the almost familial relationship between service staff and customer is palpable (and highly silly, always).
Honestly: Honesty
"Mr. Simpson, this is the most blatant case of false advertising since my case against "The Never-Ending Story"!" – Lionel Hutz
One of the more regular Simpsons archetypes is the smiling con(fidence)-artist, one offering bold, moon-sized promises to unsuspecting groups of human beings (and Springfield seems to be a gullible community indeed, ripe for their fooling). These promises are met with nothing but poor service, and a cascade of lies. Here's the thing: Good customer service is anything but this. Lying to customers; offering promises you are either unwilling or unable to keep; presenting yourself and your company as educated, certified experts when this is untrue; and promising good service while then making your customers wait on hold (or in line) in future will set you up for failure, and create a poor reputation for your overall brand.
On The Simpsons, we are reminded of con-artists time after time, a comment on false advertising and its overwhelming presence in our world. We see this when shiny-toothed con-man Lyle Lanley enters Springfield and, using wit and song, somehow encourages the town to buy a monorail which turns out not only to be faulty, but also part of a larger scam that makes him a quick buck but devastates other people.
We also see this in more regular characters like one of my personal favourites, insufferably inadequate Lionel Hutz, Attorney at Law (and such a con man he is also known as Miguel Sanchez and Dr. Nguyen Van Phuoc in some circles), who has made grand promises to many clients but has rarely won a single case. Even though I'm a fan of the extraordinary Phil Hartman who voiced both of these dastardly characters, trust me: If you work in any kind of service function: Don't be a Hutz.
Good Goods Are Good
While The Simpsons certainly comments upon people and places, one of its most creative aspects are the consumer products it presents us with. They are ingenious but, as this is comedy, they are also mediocre or downright terrible. Worse, these products may not align with the needs or values of a customer base (I think of Lisa Simpson's disappointment with her not-terribly-progressive Malibu Stacy doll), a signal that the company in question has not bothered to listen to customer feedback or snap into the realities of the present. What can we learn from this? Garner customer feedback, and use it to create and produce good products: Both are certainly part of the customer service chain.
It's really a question of quality control, and Springfield has seen many product failures as a result of, well, little to no investment in it. Krusty the Clown, being in show business and obsessed with his own brand development, has seen his fair share of Krusty products fail (and nearly kill) the customer base. And then there is dear Apu, owner and operator of the local Kwik-E-Mart, who poisons Homer by selling him some discount meat, which he knows is well past its sell-by-date. This product-control faux-pas is ultimately forgiven as he re-nurtures the relationship with a customer he had wronged (and lied to through song). At least in this storyline, winning a customer back was possible (and probably a little too easy, Homer).
The Simpsons' longevity can be attributed to the way it magnifies the foibles of human beings and the institutions they are supposed to trust. As such, those in customer experience and customer service have much to gain, and guffaw at, in any given episode of this international treasure. Watch and learn its teachings and you'll find that everything "will be coming up Milhouse" for you and your brand.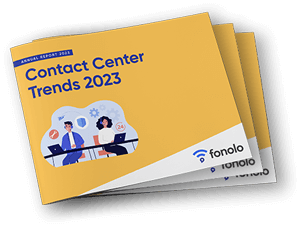 Trend Alert! Contact Center Industry Predictions for 2023
This report offers perspective on where the contact center industry stands today, plus our trend predictions for 2023.