Customer support is currently standing at a crossroads: One road leads to exciting automated technologies, and the other to the 'human touch'. Recent technological advancements are many, ranging from Artificial Intelligence (AI) (and related automated tools like virtual assistants, chatbots, etc.) to real-time messaging, simulation, self-service and crypto-currency. These technological breakthroughs point toward a future with remarkable changes in the customer service landscape. Despite these advancements, the human element still rules as the best way to deliver efficient customer support. Human agents make informed judgments and offer personability, both highly desired traits in the CS ecology. In fact, the success of new support technologies is ultimately based on how efficiently they are able to assist humans working on the front lines.
Customer support emerged as a concept with the dawn of trade, when the farmer, butcher or tailor sought better ways to meet customers' needs and thereby gain an edge over local competition. In the call center world, customer service and support took a huge leap forward in 1876 as Alexander Graham Bell's electric telephone made product information accessible and arranged for easy repairs. This saved the telephone users inconvenient trips to the manufacturer's store or repair shops. Later, as global markets opened doors and 'survival of the fittest' became commonplace for businesses, stiff competition resulted in customer support being lauded as a key differentiator for organizational success. Today, big brands have started pushing the envelope with increasingly sophisticated ways of supporting customers, thereby raising the benchmark for new businesses from the get-go to develop best practices for customer interaction and support.
But, like many good things, customer support technology comes with several challenges and a steep learning curve. For the consumer, adapting to new technologies can be a daunting task. On the other hand, from the organization's standpoint, implementing and scaling technologies (or researching means to make these advancements intuitive and better than competitors) can chew up resources from core business functions and the overall undertaking can demand huge investments. So, it is important to strike a good balance and find the sweet spot when using resources. Technological advancements geared for customer support can help front-line humans deliver better customer experiences. With this in mind, we at Fonolo, experts in contact center solutions, decided to handpick impactful technological advancements that if implemented appropriately will notably change the face of customer support in the future.
Engage in Rewarding Video Communications
Rightly so: The modern consumer is a big believer of the old adage, "What you see is what you get." Brand-related viral videos on social media have set new expectations about customer interaction amongst users. (Airbnb, for instance, specializes in real-time storytelling and enjoys a huge fan following across various video-centric social media platforms. The house rental giant enjoys approximately 10 million monthly video views, and recently incorporated the 360-degree feature on Twitter and Periscope in order to give house tours.) These video campaigns effectively reach massive crowds and draw them closer to the brand on many levels. They now expect frequent face-to-face real-time videos with front line agents. While consumers have more faith in what they see, it is also easier for a front-line agent to "show and tell" without leaving the workspace. This lessens travel expenses (both temporal and financial), and videos can be conveniently created and uploaded from the agents' smart phones. So, organizations should frequently use different forms of video (feature videos, product demos, how-to videos, video conferencing, and video voicemails) as a way of providing efficient customer support, improving vendor relations, and saving travel time and cost.
Get Hooked on Real-Time Messages
Consumers live in the now! 24x7x365 availability and customer support is the new normal. Users expect to have instant, one-on-one communication in the present. Asynchronous forms of engagement are swiftly facing extinction and instant communication is being encouraged. Get on the synchronous messaging bandwagon on social media, chat- and message-centric apps, and CRM and marketing platforms. Brands that are inculcating real-time messaging in responding to customers will increase more customer touch points. Effectively addressing these channels will result in a holistic customer support system in future.
Offer Your Human Agents AI Assistance
Modern human agents on the front lines spend hours executing mundane tasks that consume significant hours of their work days. With repeatedly rerouting calls, tagging emails, processing transactions, and filling in form fields, human agents often burn out and are left feeling frustrated. This negatively impacts their overall productivity and well-being. On the other hand, a bot or virtual assistant can, unfazed, efficiently accomplish these tasks. AI tools can accurately learn from, train with, teach and deliver repetitive information without dipping its level of energy and efficiency. This can free up human agents to handle more complex customer queries and use their critical thinking skills. Going forward, bots and automated tools will become a game-changer in the provision of customer support. Gartner predicts that 85% of customer interactions will be managed by artificial intelligence by 2020. This will facilitate human reps to direct their time and energy towards investing in the 'Empathy Economy', resulting in customer growth as well as value generation for their companies.
Empower Your Customers with Self-Help
Self-help is the best help. Even with the significant emergence of automated technologies, it is imperative that brands prepare consumers for contingencies. To begin with, brands should lay out answers to common product and service questions, usage methods, and emergency preparedness tactics for all agents. They should then feed that information into searchable platforms and repositories. Besides paving the path for great customer-support, self-help also lowers service costs for organizations.
While an organization can manufacture distinctive products, develop ground-breaking solutions, and boast of state-of-the-art infrastructure, these efforts only become profitable and thrive when the consumer is happy with the support provided and becomes loyal to the brand. Respond on time, deliver quality support, and make your customers aware of the fact that they are immensely valuable to your brand. To learn some easy tricks for ultimate customer satisfaction, read our whitepaper on The Contact Center Playbook for improving CSat.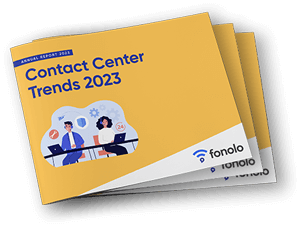 Trend Alert! Contact Center Industry Predictions for 2023
This report offers perspective on where the contact center industry stands today, plus our trend predictions for 2023.