I'm sitting here in Canada, a vast country with an ever-debated culture. Part of that debate is our collective, enduring love of hockey, one that sometimes puzzles me. It's not unheard of to read sentiments like "Hockey, what is wrong with you?" or "Hockey, I'm through with you" in major Canadian publications in recent years. There are also subsets that are rather grim about its future. Lawrence Martin of the Globe and Mail writes: "In the context of its celebrated history, our national sport is clearly past its prime, clearly on the decline … Hockey's heyday was the Cold War era, 1950 to 1990. It was then that … hockey became an identity sport, occupying a role in society much grander than that of a game."
Ah, identity. So this is why hockey, and sports in general, endure even in the face of the above takes, rising ticket prices, alleged growing disinterest, and declining enrollment. This is also presumably why hockey is inextricably linked to the cultures of many other countries, a handful of whom produce some of the jazziest players in the world. Regardless of place, hockey is a marker of personal and community identity. It's not just "Canada's game"; it's a massive, global, community fan experience. Paul Greenberg gets it right: "Sports doesn't need to create advocates — the type of customer that most companies can only wish they had. Sports has them by the millions. They're called fans."
And these fans are personally invested.
Loyal, good sports fans are resilient, touting their teams even in times of struggle. Their unshakable allegiance might result from a coming-of-age experience with a brand. It might also result from a steadfast study of stats. Or, it may simply be related to seeking an identity and sense of place among strangers, who likewise need heroes and aspirations. This is why I've always regarded sports fans as a distinct "customer" base, and among the most influential (especially in the social media era). As their customer identities are neatly entwined with the teams they cheer for, any interactions with the team brand (live game experiences, ticket purchases, digital and mobile offerings) are of consequence. So, when fans rally, it can wield an immense power: The sports-fan customer base can be divisive, or conversely, a vehicle for uniting communities. Even accompanying businesses, like Nike, alternately take the heat and feel the love, all because of how deeply sports brands are connected to the emotions and identities of a sobering amount of people. 
Storytime: The Day the Montreal Canadiens Scored a Fan for Life
In my family, the Montreal Canadiens (or, the Habs) are our team. My grandfather would, twinkle-eyed, tell of the thrill of watching hockey on live TV for the first time (and seeing his hero Maurice Richard through the lens of a wavering black-and-white screen), which inspired him to water down the backyard every winter and get his kids skating at "rocket" speed.
And then there is my father-in-law, Ted, born into a family of hockey enthusiasts. His first physical exposure to hockey came via playing the game as soon as he was able to shoulder the gear. But, at this point, he bore no allegiance to any particular team. This would soon change:
In the early, frigid winter of 1958 in Ottawa, Canada, Ted's father Morley braved a chilly journey to mail an important, pointed letter to the Montreal Canadiens regarding his son, Ted. Now, this was a time before more efficient communications technologies existed; relative to today's prolific multichannel customer service offerings, there was considerably less choice in the late fifties. 
Morley's letter was a basic service query: My son, Ted, has a birthday in March; I want to take him to a game in Montreal. How might I be able to purchase some tickets?
Shortly after, he received an envelope in the mail. The sender? Ken Reardon, then Vice President of the Canadiens (and who has since been inducted into the Hockey Hall of Fame). Enclosed in the envelope, in response to this simple customer service query, were a few items that would seal the Habs-fan-for-life deal in the Donaldson household:
A personal letter from Ken Reardon;
Autographed photographs of the entire Montreal Canadiens roster; and
Tickets for a Saturday game against the Chicago Black Hawks at the Montreal Forum close to Ted's birthday.
Because of this extraordinary, unexpected, and generous customer service gesture (and person-to-person response to a service inquiry, especially over snail mail), at this particular game, the family were able to see Bobby Hull play live in his rookie season, and catch the legendary "Rocket Richard" in all his glory. (Montreal won 4-1.) From that moment forward, Ted was officially, and unapologetically, a Habs fan. (And from that moment forward, so were all of us destined to be.)

Lifers
The Habs' 'letter gesture' signals an effective way to engage with customers when they reach out for help: Go above and beyond. As sports teams are, like it or not, entwined with customers' identities, it's integral for sports brands to aim for extraordinary customer experience offerings. They have the power to ensure fans for life. 
While it is probably impossible to service every sports fan in the same way today digital reach has meant millions rather than thousands or even hundreds of fans), nurturing a customer base doesn't have to mean handwritten letters from head honchos: It could extend to the mobile and digital experience you provide fans; the technologies you employ that nurture fan experiences; and the emboldening of your customer service offerings. (May we also suggest finding a strategy to lower ticket prices? *wink*)
So, here's the thing: Sports are not just about sport. They are about identity, people, aspirations, nostalgia, community, and experiences. They are deeply personal. This is certainly why creating a winning customer experience, one that is story-time worthy, should be your ultimate goal. 
---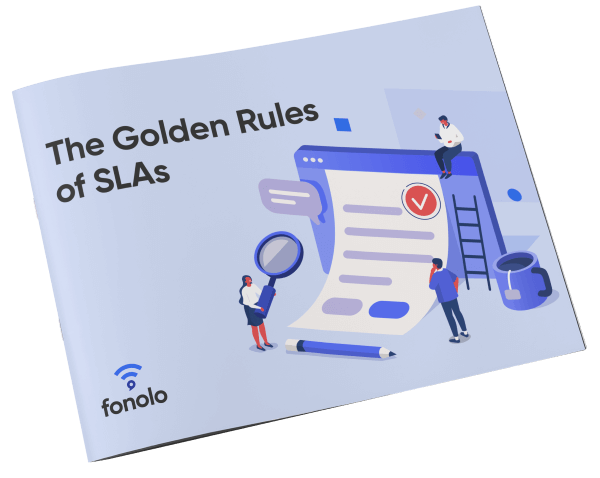 The Golden Rules of SLAs
If you're looking to quickly study up on SLAs, look no further. Download this free white paper to become an expert.