He-Man had the right idea when he held aloft his sword and transformed into his mightiest self. "I HAVE THE POWER!" he proclaimed with animated gusto. Although the cartoon is pushing 35 years old, it's still an inspiring sight to see (and message to hear). While we're not all Eternia-born superheroes like him, per se, as mere mortals we can still aim to be the masters of our own universes (contact center universes, if we're being specific here) and harness the unshakable power to satisfy our customers.
Sparking powerful connections with customers and establishing their ongoing business isn't rocket science: It's a matter of having the most dynamic tools in place in your contact center. These tools ensure that customers make meaningful contact with agents whose powers are knowledge, experience, and empathy. This in turn will generate more positive aftereffects than you might initially think.
During peaks in call volume, it becomes increasingly challenging for customers to have their voices heard and their problems solved quickly and efficiently. Quite the opposite often happens: They are placed in on-hold purgatory, sometimes for hours, which causes a surge in impatience and an increase in the likelihood that they'll complain about it later to their friends, family, or worse, on social platforms. Putting customers with complex cases on hold for eternity is a weak move: It's a frail part of a call center infrastructure; and it may block a potentially good future relationship with the customer reaching out for help.
But how can we in the contact center world harness our energies and rightfully proclaim that we have the power to deliver exceptional service to our customers?
It's very simple, really, and there's no cartoon sword involved either: Call your customers back.
As we at Fonolo see every day, giving customers the choice to opt-in for a call-back via phone, web, or mobile (either as soon as possible or at a future scheduled time) positively affects how your contact center operates, and your brand's future successes. For instance, call-backs:
Smooth out spikes in call volume: Sometimes you can predict spikes in call volume; sometimes you cannot. In any case, call-backs aid in managing these spikes by deferring calls for future moments when more agents are available to assist with customer support.
Lower abandon rates: Customers forced to wait on hold for a significant amount of time will often hang up, which leads to a spike in repeat calls. Call-backs aid in taking this strain off of the call center team, and lowering the potential for customer frustration.
Improve overall customer experience and satisfaction: Using call-back technology in place of hold technology has the potential to spark repeat business. It also makes for less frustration on the customers' parts, as they connect with an agent without having had to wait on hold for ages. Giving your customers their time back is a gift they will be grateful for.
Improve overall contact center agent experience: Call-backs make for a less frustrated customer, which means a less fraught introduction to a contact center agent. As agents are putting out customer fires all day long, reducing their stress by connecting them with more amenable customers has a positive impact on the contact center staff's well-being and overall productivity.
Lower telco costs: Placing someone on hold means that, during that entire wait period, a phone line is open (an expensive telco cost to be sure). A call-back ensures that no phone line needs to be active until the agent is available to assist the customer.
Help companies realize a positive ROI. Enough said.
Call-back technology is dynamic, and different iterations exist that meet the distinct demands of each individual contact center. The key to finding the right fit? Offer call-back options to your customers on their preferred channel(s) (where the call volume originates from); this is the point at which you have the power to vastly improve your customer's experience with your business. You'll also lessen the possibility that those customers will 'take to Twitter' to let off some steam about their on-hold experiences on social media (arguably one of the most powerful platforms for customer feedback in modern times).
If you want powerful tips, tricks, and further reading from the minds of call-back experts, make sure to check out our eBook, The ROI of Call-Backs for Your Call Center.
And remember: You have the power.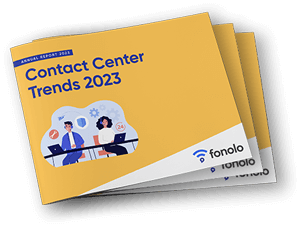 Trend Alert! Contact Center Industry Predictions for 2023
This report offers perspective on where the contact center industry stands today, plus our trend predictions for 2023.