The global market has become a battleground where brands fight to win consumers. From new entrants to established business houses and online giants, every organization is vying for a customer's attention and his business. So, the consumer's perception of a brand becomes vital to its survival, growth and success. Brand perception also translates into customer experience (CX).
But the modern consumer is well-informed. He doesn't rely only on sporadic ads or isolated press releases in forming his opinion of a brand; he shrewdly draws his judgement from every single interaction with it. So, in modern times, managing customer experience is the new brand imperative.
The criteria with which consumers attribute customer experience is highly variable; as such, it is best to think of it as the collection of every interaction between the customer and the brand in the course of the consumer life-cycle. This ranges from:
Promotional messaging
Quality of the product or solution
Maintenance and repair processes
Product research, development, and innovation
Website or app navigation experience
Cleanliness of facilities
Infrastructural support
Leadership
Brand advocacy
As you can see, every perceivable factor associated with an organization contributes to CX. Therefore, to generate a positive consumer experience, an organization needs to research, strategize, implement and manage it efficiently.
Customer Experience: A Success Story
Keeping the importance of customer experience in mind, we recently launched a campaign: Humans of Customer Service (Follow us on Twitter!). This initiative rewards humans whose exemplary service has remarkably improved customer experience. We interviewed some of our nominees about their own outstanding CX moments and how they fostered brand loyalty.
One nominee shared that her most memorable customer experience was as a child in a little bookstore: Mabel's Fables. As a burgeoning book-lover, she was very inquisitive towards the friendly staff, who would enthusiastically answer and indulge her to read more, ask more questions, play with more toys, and lounge around in-store for hours. 25 years later, she takes her own child to Mabel's Fables; continued patronage resulting from an outstanding customer experience. This points towards how positive CX can have a life-long impact on the consumer.
Keeping this in mind, we devised a straight-forward method towards effectual customer experience management:
Step 1: Construct Consumer Profiles
Start with determining your key message to your target audience. Research and gather extensive information about your potential audience (demographics, psychographics, and geography). Create a realistic persona. Then map out important characteristics and segment them under relevant profiles. Get to the specifics, as the answer resides in the little details. Finally, develop tailor-made customer experiences across different consumer touchpoints that trigger positive interactions from individual profiles.
Step 2: Create a "Customer Experience Map"

This step, similar to a customer journey map, is vital as it vividly points out consumer touchpoints that can establish a personal connection between the company and the customer. It helps to predict client behavior that may result in positive long-standing relationships and customer retention. This map can reveal insights such as to why consumers showcase a higher degree of brand loyalty when they take a specific path to purchase. For instance, a growing number of consumers today who are practicing ROPO (Research Online Purchase Offline) may buy from the same brand, particularly while making a purchase in retail, or if post-purchase consumers who engage with a brand using specific touchpoints may churn for further purchase.
Step 3: Measure Real-Time Customer Feedback
The final objective of customer experience depends on what the customer thinks about the brand. So, it is crucial to track if the customized strategies a) strike a chord with the customer; or b) fail to create any positive impression. Timely and quality monitoring will help a brand quickly devise an improved CX strategy that results in successful CX management.
The era of quality- or price-based competitive advantage is over. The present business eco-space is wholly and solely the customer's market. It is commonplace for consumers to switch providers following a minor CX flub. Moreover, expectations of superior customer experiences are on the rise despite slimming profitability and tight marketing budgets. So, it is mission-critical for today's organizations to design, implement and deliver a strong CX management process to compete and stay in the game.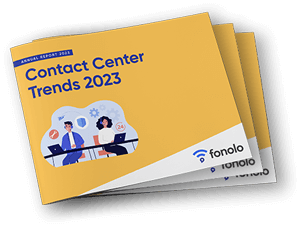 Trend Alert! Contact Center Industry Predictions for 2023
This report offers perspective on where the contact center industry stands today, plus our trend predictions for 2023.