The rise of digital commerce and the growth of social media have given consumers powerful tools to share their thoughts and feedback with brands. The ability for customers to tout their distinct opinions with far-reaching audiences is a new phenomenon that has shifted the way brands must think and operate. Excellent customer service must become a central component of companies' strategies if they hope to survive and thrive in this digital age.
From creative call center strategies, to social listening, to large customer service budgets, there exist a multitude of techniques that will aid brands in continuing to delight consumers. But, since the cost of acquiring a customer can be steep, it is in a company's best interest to create a happy consumer with a high customer lifetime value (CLV).
Many brands have recognized this fact, and are responding appropriately with innovative strategies. Turn your attention to these great examples of how the world's biggest brands are putting their customers first and seeing massive customer growth as a result.
Leverage Artificial Intelligence
CASPER cleverly identified insomniacs as a key target customer for their innovative mattresses. The company designed a chat-bot and named it the Insomnobot-3000; it used artificial intelligence to chat with insomniacs throughout the night while their friends and families were asleep.
The bot didn't just delight and entertain customers who were frustrated with their lack of sleep; it also provided the company with important information about their target customers (specifically, it collected a high volume of their mobile phone numbers). Using this information, the company launched a call center strategy that reached out to the users of the Insomnobot-3000. The call centers would notify the bot users about upcoming events, promotions, sales and product launches while working to convert them. Did it work? Well, CASPER is one of the fastest growing consumer brands of all time, hiring 300 employees and receiving a billion-dollar offer by its third birthday.
So, it would seem their strategy is working just fine.
Involve Customer Service Team In Company Strategy
Glossier is a digitally native brand, often held up as an example of a modern company rapidly changing the status quo by thinking outside the box. This is, in part, due to their memorable creative customer service strategies: The Glossier customer service team is known as the gTeam, and team members are referred to as 'editors' to highlight their level of expertise.
The gTeam is not only responsible for handling customer concerns; they are intimately involved in the product development process, as well as the strategy development around product launches. The editors test products (often a year prior to their release) and advise the marketing team by helping to foresee questions and concerns the customers are likely to ask. These early insights help guide the design of the product pages, the product descriptions, asset selection, as well as content strategy. Glossier is a great example of the many benefits a company reaps by making customer service a central component of brand strategy.
Equip and Empower Your Employees
The Ritz-Carlton has been, for years, a strong example of a company putting customer service first; you've likely heard this before, but this hotel chain has been lauded for going above and beyond for their patrons. Not surprisingly, the hotelier boasts an interesting strategy for achieving such a high level of customer service.
Employees.
Specifically, Ritz-Carlton employees are given a high level of autonomy and are empowered to make quick decisions to ensure that customers are pleased without having to seek approval from higher-level management.
Astonishingly, each employee is given a $2,000 budget per guest to resolve any customer service complaints that may arise. This is a notable example of superior customer service for those who might be hesitant about investing too much time, energy, or money into customer service strategies. The company notes that when employees are empowered with resources to assist guests, in return, rather than increase their demands, guests are more likely to respond favorably. Furthermore, they become loyal customers who openly praise the company and increase customer acquisition for the hotel.
Happy Customer = Happy Company
While companies may be fearful of the power consumers wield in today's digital age, it is important for brands to note that a happy customer is just as powerful as a dissatisfied customer. Striving to create positive relationships with consumers not only increases the lifetime customer, it turns customers into evangelists who will voluntarily market your company for you (for free!). As brands like the Ritz-Carlton, Glossier and CASPER have demonstrated, this is an incredibly powerful way to grow. The moral of the story? Strong customer service creates a win-win situation for both the consumer and the company.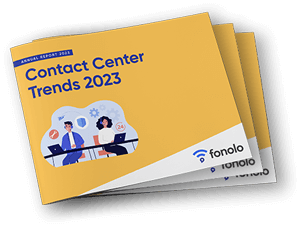 Trend Alert! Contact Center Industry Predictions for 2023
This report offers perspective on where the contact center industry stands today, plus our trend predictions for 2023.