Meet Jane, the co-founder of a start-up that makes software for independent designers. Last year, her business received a round of seed funding and, as a result, its volume of orders quadrupled. Although this growth was positive, Jane was left struggling to keep up with customer (and internal) communications; processing new orders; investigating logistical issues; optimizing marketing strategies; and testing and updating product features. There was also no time left to visit clients and hear their needs.
Jane's CEO observed the bandwidth problem and implemented a solution: She formed an internal call center and hired and trained a team of 10 agents to support it. Soon, agents were placed on calls with clients and within a month the agents had streamlined pending projects; followed up on account receivables; and reached out to new clients via cold calls. This surge in productivity helped Jane focus on key accounts and core business functions.
This story demonstrates that call centers help companies improve overall service levels. To achieve and maintain a good holistic service level, however, it is imperative for call centers to improve and maintain their internal service levels, too.
"Service level" is fast becoming a significant Key Performance Indicator (KPI) for call centers. It measures two parameters: 1) the availability of call center agents to assist customers; and 2) the speed with which agents resolve customer queries and concerns. Since any fluctuation in service levels can directly and significantly impact revenue, call center managers need to monitor and take steps to consistently improve them. Here are some quick tips on how to do just that:
Create an Optimum and Flexible Workforce
It's important to research past trends, market requirements, and available resources; only then can you accurately forecast call volumes. Following this, you can schedule an optimal number of agents; factor in flexibility for contingencies (like sick leaves, new agents in training, etc.); and make necessary adjustments as needed. Although tricky, achieving this balance is necessary. While under-staffing leads to longer wait times and call drops, over-staffing leads to an increase in costs. So, setting an optimum and flexible workforce schedule that call center agents will adhere to is crucial to improving service levels. (The global metric for adherence to a schedule for call centers is 95%, by the way.)
Strike an Optimum Occupancy Rate
"Occupancy rate" is the percentage of time agents perform work-related duties. It is defined by a specific equation: Occupancy Rate = (Total Call Handling Time + Total After Call Work Time – Idle Time) divided by Total Logged in Time. It is inversely proportional to a service level.
A higher occupancy rate indicates less agent availability and increased hold times that lead to more call drops and lower service levels.
A lower occupancy rate indicates more agent availability, shorter hold times, and higher service levels.
A balance between the two is necessary, as a high occupancy rate reflects agent stress (resulting in turnover) while a low occupancy rate indicates less optimal workforce management and increased costs. (The global metric for occupancy rates in call centers is between 60% and 80%.)
Revisit Key Performance Indicators
More and more, companies are measuring productivity via customer satisfaction levels, Net Promoter Scores (the percent of loyal customers minus the percent of detractors), and lifetime values of customers. These metrics are useful in monitoring and improving service levels as they reflect both cost of interaction and outcome of interaction. These important indicators help to benchmark call center performance, assess competition, and determine the degree of compliance with best practices. These metrics allow call center managers to focus on making changes that could have a significant impact on growth.
Improve Customer Segmentation Using IVR Options
There is nothing more annoying to customers than getting lost in an IVR maze, bouncing from one agent to another in pursuit of an answer to a simple question. While it's a tall order to provide an exact match for every customer query, call centers can strive to find the best possible agent for a specific customer request. On the one hand, this improves customer satisfaction: A customer gets an appropriate response and hold time is reduced. On the other hand, it enhances employee satisfaction as the agent feels more empowered by being able to easily solve a problem (and close a ticket).
Build Relationships
It is important to nurture relationships with stakeholders who can help drive improvement in your call center. Working closely with influential people will help you swiftly drive necessary changes and achieve goals you never thought possible. These goals could include reducing your agent attrition rate; empowering call center agents by giving them critical information to resolve complex tasks; exceeding sales targets; or delivering excellent customer service overall.
Call-Backs
A common reality in call centers? Long hold times followed by increased call drops (which is then followed by tumbling service levels). A quick fix to this frequent problem is enabling call-backs. When hold times are too long, give callers the option to receive a call-back from the next agent. Some smart call centers have also started to facilitate scheduling calls at future times, ones more convenient for the customer. For more on this solution, be sure to check out this in-call rescue datasheet outlining various benefits enjoyed by a call center by integrating call-back solutions. This easy-to-integrate cloud-based offering can instantly push your service levels above and beyond your expectations.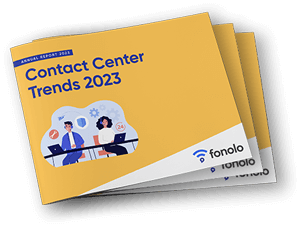 Trend Alert! Contact Center Industry Predictions for 2023
This report offers perspective on where the contact center industry stands today, plus our trend predictions for 2023.