Most marketing decisions today are driven by data. With CRMs, social analytics, Google analytics and e-commerce platforms readily available to most companies, marketing teams are able to pore over and analyze enormous amount of statistics, numbers, charts and trends. From product development to launch strategies and content planning, data is often behind many key decisions being made by company leaders.
However, there is a very powerful kind of marketing machine that brands are learning to leverage: Brand evangelists. Brand evangelists are customers that will repeatedly sing the praises of companies to their networks of friends, family, and social media followers. Creating, identifying, and leveraging these evangelists requires a much more personal (rather than data-driven) approach for a very important reason: Other consumers are more likely to trust this kind of 'advertising'.
There is no question that brand evangelists are powerful assets for any company, but the question lingers: How do you create this level of brand loyalty? Here is how customer service teams, call center agents and community managers can create, identify and leverage brand evangelists.
Include Your Customers
In order for a company to foster a community of brand evangelists, customers must start by feeling like they are a part of the brand. That means constantly seeking feedback from customers on a variety of topics including how satisfied they are with your product or service, and how satisfied they were with their entire purchasing experience from checkout to unboxing.
Make Yourself Readily Available
Brands should have as many customer touch-points available as they can. Modern customers expect to be able to have a variety of convenient channels to contact companies via mobile, web, and social media. It is only through human interaction with customers that call center agents, marketers, and social media managers can begin to identify brand evangelists which is, of course, the first step to leveraging them.
Get Up Close and Personal
In order to identify and leverage brand evangelists, companies must be willing to go beyond the data and get more personal. A great way to do this is to touch base with call center agents and social media managers (the employees that directly interact with customers). They can help identify brand evangelists, and offer excellent insights into what motivates a brand evangelist to sing a company's praises.
Personalized thank-you letters, discount codes, and early access to new products are also great strategies that can be put into place to let brand evangelists know that their loyalty to your company is appreciated and valued.
Create A Customer Community
A group of brand evangelists that feels united by a company's mission is far more powerful than those operating alone. This is why it is important for brands to begin to foster a sense of community amongst long-term loyal customers. Brands like Revolve, Benefit and Boohoo have begun to organize retreats for influencers, celebrities and loyal brand followers. These retreats not only provide great content for the brand to share, they create positive relationships amongst brand followers who then become an even more powerful marketing machine.
Companies must learn to leverage the insights of call center agents and social media managers to see maximum growth in their brand and bottom line. These employees directly interact with customers, have a wealth of information to share, and can help companies identify and harness the powerful marketing potential of brand evangelists.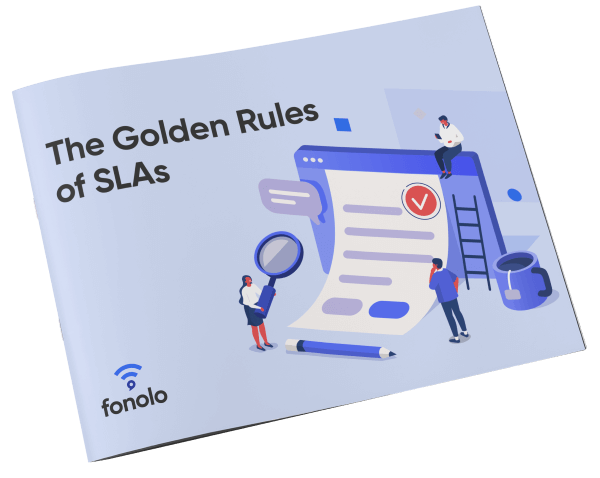 The Golden Rules of SLAs
If you're looking to quickly study up on SLAs, look no further. Download this free white paper to become an expert.