These days, customers are savvier than ever. Generic, sales-heavy marketing campaigns no longer have the same impact they once did. Thanks to social media platforms, customers wield more power than ever before. Customer service and call center agents are certainly feeling the effects of this power: They are working harder than ever to successfully meet customer demands to earn rave reviews rather than damaging social media rants from customers. This can place a great deal of pressure on call center agents, so companies must find ways to keep their morale high.
So, how can companies make the most of these emerging trends in marketing? Let's take a closer look at some of the strategies today's largest companies have successfully used.
Surprise and Shout-Out to Customers
One great way to show the world how committed you are to your customers is to document the ways in which you go above and beyond for them. Both TD Bank and WestJet did this so successfully in their respective #TDThanksYou and #OwnersCare campaigns. In the #TDThanksYou campaign, a display of photographs and audio recordings documenting long-time customers' personal journeys were set up in their local TD branch to remind them of how far they had come. In WestJet's Night Before Christmas ad, passengers were asked by a virtual Santa what they wanted most for Christmas and, upon their arrival, a wrapped present was presented to them on the luggage carousel. These campaigns had such overwhelming viral success, they became long standing series and key components of the respective companies' advertising strategy.
Deliver Your Brand Experience in an Exceptional Way
Tim Hortons is another brand that has made customer service a key component of its ad strategy. Just recently, the brand released its latest campaign, one documenting its efforts to bring a Kenyan hockey team to Canada to experience the game in its country of origin. Tim Hortons set the men up with the latest equipment, a top-notch arena, a special visit from Sidney Crosby and Nate MacKinnon, and (of course) lots of coffee and Timbits. The ad captures the company delivering an exceptional brand experience to a group of men who embody the brand persona.
Use a Little Humour
T-Mobile decided to use a little humour to show the world how their customer service is superior to that of their competitors. A recent ad featuring Rainn Wilson depicts the all too common and frustrating experience of waiting on hold for a call center agent while dealing with various automated messages. The ad ends with the slogan, "No Bots. No Bouncing. No B.S."' to highlight how T-Mobile is striving to create a more positive call center experience for its customers.
Spread Your Brand Mission
Dove is known for creating meaningful advertisements aimed at counteracting the stringent beauty standards placed on women worldwide. In their Choose Beautiful campaign, Dove thinks outside the box and focuses less on customer service in the traditional sense and more on spreading their brand mission to current and potential customers. The brand does this through a social experiment that has women choose between two labelled doors: 1) 'Beautiful'; or 2) 'Average'. With these types of ads, Dove highlights that it is not only working to provide great products to its customers, it is also working to boost their self-esteem and body image.
One need only look at the impressions and social statistics behind these campaigns to know that they have clearly had a major impact. Customers seem to appreciate this fresh take on advertising. In addition, call center and customer service teams appreciate the public praise of the work they do in such difficult and demanding roles. All the while, the company benefits greatly as these campaigns provide excellent opportunities to highlight their exceptional customer service and garner a great deal of attention.
So, what are you waiting for? Start capturing those special customer service moments and watch that video go viral.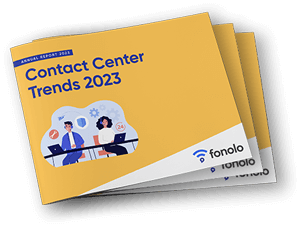 Trend Alert! Contact Center Industry Predictions for 2023
This report offers perspective on where the contact center industry stands today, plus our trend predictions for 2023.