A year ago, the CPaaS (Communications Platform as a Service) space seemed settled into comfortable middle-age. Twilio had won the game in terms of "API for sending messages and making calls". Nexmo had been acquired by Vonage. Tropo by Cisco. Zang by Avaya.
But, it turns out that this was just a pause before the next verse in this tune. Twilio launched an ambitious expansion "up the food chain" with a call center platform in March (which went live this week), invested heavily in IoT (Should that be part of CPaaS?) and continued last week via the massive acquisition of SendGrid, now moving into the email distribution space.
Meanwhile, Nexmo is newly relevant via Vonage's acquisition of NewVoiceMedia. And we have a new entrant: SignalWire.
Flex Forward
We covered Twilio's Flex announcement with several posts earlier this year. At their annual Signal conference, Twilio announced that the product was now live, and also pointed toward several impressive early users. It's refreshing to see a company launch with this kind of credibility. Too many companies put the sizzle before the steak: Launch first, talk a big game, and hope customers will come later. Analyst Sheila McGee-Smith interviewed two of those early adopters: Lyft and Shopify.
Interestingly, Shopify switched from Talkdesk to Flex which re-energizes one of the big topics from the discussion when Flex was first announced: Will Twilio now be competing with its customers? This is an inevitable issue when a company switches from being a platform for others to build their applications on to being the application itself. Talkdesk is one of the call center platforms that is built, at least partially, on top of Twilio, so we now know that this concern was not entirely theoretical.
(Don't worry too much about Talkdesk though: They just raised another $100m at a $1b valuation!)
Another cloud call center built, at least partially, on Twilio was NewVoiceMedia, recently acquired by Vonage. (Our coverage here.) See the stack diagram below for more. Vonage owns Nexmo, which is one Twilio's closest competitors in terms of pure CPaaS. Could Vonage combine pieces from NewVoiceMedia and Nexmo into some kind of Flex competitor?
SendGrid Acquisition
The conventional wisdom on the Twilio's SendGrid acquisition is that it adds "another channel" to the mix. This quote from TheStreet is representative:
… the deal fleshes out Twilio's existing portfolio of products — which includes APIs for voice, chat, videoconferencing and more — with an email product. Email is still a vital channel for businesses to talk to customers, and [CEO] Lawson sees the acquisition as a way to make sure that Twilio has products across every single channel …
That's one way to look at it. SendGrid did start out as an email API system, but in recent years has positioned itself as an "email marketing" platform. This isn't a space I know that well, but I can't help but see the parallel with the call center story. That is, is Twilio going start competing with email marketing companies that previously saw Twilio/SendGrid as a technology supplier?
Friend-of-the-blog Alan Quayle had some further thoughts here. I'll be speaking at Alan's TADSummit on November 13, and this will be one of the topics we cover.
Twilio really put the pedal to the metal last week. As analyst Jon Arnold put it: "[I] can't remember the last conference that hit the ground running with intensity, passion and creativity – and stayed there end to end."
For coverage on their announcements around AI, IoT, and payments, see Jon's post and this good summary at VentureBeat.
SignalWire
Twilio certainly doesn't need any amplification from me, but here's something that may have passed under your radar: SignalWire announced a new CPaaS offering to compete with Twilio. They are the company behind FreeSwitch (a broadly-used open-source telephony platform).
Their plan of attack includes lower prices. That's not surprising in itself, but I was taken aback by the directness in their press release:
What Twilio is doing is not fair to customers … The markups are enormous with little value-add to justify them. SignalWire is focused on innovation … not on how much margin we can squeeze for minutes.
Yow. Salty.
Another part of their plan to compete is an API/mark-up language that is "feature-to-feature" complete with Twilio's. That's a strategy also followed by Zang, the CPaaS offering that was acquired by Avaya. (Zang's CPaaS was built on Freeswitch, by the way.)
Here's an early look at SignalWire by Chad Hart. We should expect to see more such competitors.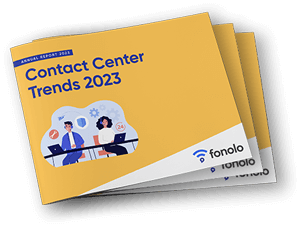 Trend Alert! Contact Center Industry Predictions for 2023
This report offers perspective on where the contact center industry stands today, plus our trend predictions for 2023.