This post has been updated for 2020.
Read it here: Top Customer Service Conferences for 2020
Have you been searching for the best contact center and customer service conferences to attend in 2019? Well, look no further: You've come to the right place.
Sure, you could watch a few evocative highlights on YouTube instead, but attending conferences in the flesh still provides far more value.
We've made the case before that conferences offer customer service professionals a host of rewards, including valuable knowledge, product exposure, and the opportunity to build new relationships.
The following conferences give you a front-row seat for hot-topic, contemporary customer service trends and how to take advantage of them; this could be anything from AI to advances in live chat. For 2019, we have hand-selected a list of the "must attend" customer service conferences based on overall quality, content, network opportunities, and potential key takeaways.
Mark your calendars for these educational and inspiring events, listed chronologically here (And: If you think we forgot a relevant event, feel free to reach out and let us know!).
We're big fans of Customer Contact West and the title of October's conference, "Customer Experience Strategy and Tactics in a Pivotal Time". It's a hub of ideas, inspiration, and industry connections for customer service executives. On the agenda for 2019 are the following topics: New agent talent; effortless experience; strategic vision; and exponential technology. This event is not to be missed!
When: October 27-30, 2019
Where: Huntington Beach, CA
Follow this event on Twitter here.
Now in its seventh year, Smart Customer Service shines a spotlight on the innovative ways CS technologies are shaping our lives and changing how CS professionals do business. The event focuses on helping attendees move forward, better allocate limited resources, or simply get started.
When: April 29-May 1, 2019
Where: Washington, DC
Follow Smart Customer Service on Twitter here. 
This event showcases practical takeaways for contact center professionals via case studies from well-known companies; exclusive tours of local contact centers; and seven key learning tracks that allow you to pay attention to topics most relevant to your business. With over 1500+ attendees and 75+ sessions, this is a great opportunity to meet others in the same field who are likely facing comparable problems. The opportunities for learning are endless!
When: May 13-16, 2019
Where: Fort Lauderdale, Florida
Follow ICMI on Twitter here.
The NECCF's Annual Conference & Expo is a highly anticipated event in the northeast with an emphasis placed on showcasing the latest in technology and innovation in the contact center industry. The day includes a wealth of networking opportunities, roundtable discussions, and expert-led workshops. An added bonus? Fonolo will be exhibiting its call-back solutions there! So: Save the date, as you don't want to miss the 2019 iteration.
When: June 11, 2019
Where: Foxborough, Massachusetts
Follow NECCF on Twitter here. 
CCW is the world's largest customer contact event series and a definite must-attend. It's the place where customer care, CX, and CS leaders come together to network and learn. It's also a fantastic place to look globally at contemporary industry trends and innovators. In 2018 the conference rebranded (it was formerly known as Call Center Week) in response to the further integration of customer support channels into customer service strategies across the industry.
Fonolo will be exhibiting at CCW and, as always, we'll have our trademark Fonolo foam rockets, contests, giveaways, and more.
When: June 24-28, 2019
Where: Las Vegas, Nevada
Follow CCW on Twitter here. 
Bonus Conferences
You spoke and we listened. SQM's primary purpose is to help organizations improve their customer and employee experience performance – one individual at a time. Attendees tell us what they like best about attending SQM's CX conference is the information that SQM shares from its groundbreaking CX research as well as the people, process, and technology best practices that have a proven track record of improving CX. SQM's 2019 conference will focus on how a contact center can contribute more towards their organization's strategy and performance and the top 10 best practices to improve CX. This is definitely not one to be missed and a topic that is near and dear to Fonolo.
When: May 7-9, 2019
Where: Spokane, Washington
Follow SQM Group on Twitter here. 
We might be biased because this conference is hosted in our backyard (downtown Toronto), but it's honestly one of our favorites. Over 3 jam-packed days, you have the opportunity to explore the latest trends in Customer Experience, as well as innovative CX tactics and strategies. This year, they are also focusing on the Employee Experience (EX) – because we all know that in order to deliver great CX, you need a great EX. Learn what it takes to engage, motivate, and inspire your employees, be they Boomers or Gen Z-ers. Why stop there? You can continue the learning, networking, and fun by joining a contact center tour and workshop!
When: May 28-30, 2019
Where: Toronto
Follow CSPN Network on Twitter here. 
Are there any conferences you'd like to attend that aren't on our list? Let us know.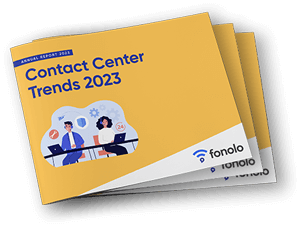 Trend Alert! Contact Center Industry Predictions for 2023
This report offers perspective on where the contact center industry stands today, plus our trend predictions for 2023.