Everyone involved in customer service wants to understand consumer channel preference. Otherwise, how can you allocate resources between phone, email, chat, SMS messaging and social channels?
So, we're all involved in a little anthropology project. In my best David Attenborough voice: "Let's observe this 35-year-old male as he wishes to find out why his order is late."
In fact, it may be harder than anthropology because we are looking forward as well as at the present and the past. We also want to know what the preferences will be next year, and in five years. Otherwise, how can we plan ahead? Technology takes time to deploy.
It's understandable that there is a craving for data on this topic. Every year, many analyst firms and research groups try to illuminate the future with surveys. And one of the most common ways to present results from those surveys is via the cohort chart. It seems to give us the exact answers we need, but can also be misleading.
Beware the Cohort Study
The cohort study asks questions about channel preference and then categorizes the answers by age range. Here is a common example:
We used that exact chart (hat tip to RingCentral) in last week's webinar on AI in the Call Center. (Watch that on-demand here.)
Here's another example:

That one was our "highlight chart" when we covered Five9 's Customer Service Index Report. See 4 Insightful Contact Center Reports You Should Be Reading.
As you can see, we like cohort survey charts, too! So what's the problem?
The thesis of a chart like this is: "The preferences you see in a younger cohort are predictive of the preferences they have when they are older."
So, if the 20-somethings are into "X", be ready to offer them "X" when they age into your target demographic.
This thought pattern is alluring because we've seen it be valid in other cohort studies (e.g. "First-grade enrollment is way up, so high schools need to prepare for the surge that's coming in 8 years").
The problem is that these surveys ask about behaviour and attitudes, both of which change dramatically as people age. The interactions that a 15-year-old has to deal with are very different from those of a 35- or 55-year-old. Attitudes towards value-of-time and urgency change. A 20-year-old may be willing to solve a problem slowly and with more steps if it means not talking to a person. That may be because the 20-year-old doesn't mind the extra work as much and feels awkward talking. The attitudes of that same person, 20 years later, may be totally flipped.
To get really specific: It's tempting to conclude from the survey that "phone calls are getting phased out". If you're a regular reader, you know we're pretty bullish on the future of the voice channel. For more on that see previous posts AI is Not Reducing Call Center Agent Employment or What's the Ceiling on Self-Service? Or, see this piece by friend-of-the-blog Dan Miller, writing for the Genesys blog: Contact Center to World: Reports of My Death Are Greatly Exaggerated.
There's no Clean Measurement
Another confounding factor: Even if you could know the exact channel preferences of all your customers at this moment, the way you present channel options will influence those preferences. And the way you execute in each channel will influence them, too.
No one is going to send you an SMS if they don't know you're open to receiving them. But if you make a big announcement about that, then, of course, you'll get more people sending you SMS.
When talking about multi-channel, you'll often hear something like, "Go where your customers are". We at Fonolo are guilty of using that line in our own materials. But the truth is, you don't know ex-ante where they are.
This is a problem that applies to any kind of channel-usage survey, not just the cohort-style chart. We'll dig into that more in a later post.
Always in Motion, the Future Is
An additional complication is that the communication channels we're asking about are changing quickly as well. A few years ago, business-to-consumer communication wasn't even possible with Facebook, Apple or WhatsApp. What channels will appear over the next 10 years? (For more on Messaging vs Chat vs SMS, sign up for our online discussion with a panel of industry experts, November 29. We'll be taking live questions over Twitter; use the hashtag #CSBattle.)
What's going to happen to Google RCS? What if privacy concerns continue to dog Facebook? What if Apple decides to focus more on autonomous cars and augmented reality rather than B2C chat? What if SMS prices continue to drop? What if faxes become popular again? (Just kidding about that last one. Die faxes, die.)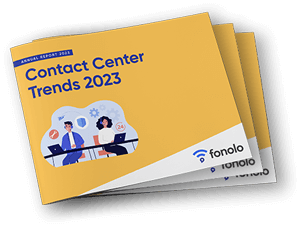 Trend Alert! Contact Center Industry Predictions for 2023
This report offers perspective on where the contact center industry stands today, plus our trend predictions for 2023.