It could be argued that customer service is uniformly about a few core things: Giving consumers agency; shepherding them towards a positive outcome to their problems; and providing solutions and smiles by whatever means (and using whatever technology) necessary. While this may seem simple enough, call and contact center managers of the 21st Century know better: It ain't easy.
As we wind down the year, one exploding with news of mergers, acquisitions, emerging technologies, dying technologies, and the like, sometimes it's good to go back to basics when the volume on industry news and call center trends has been turned up to dizzying, deafening degrees.
And, you know, we're here to help. Our Thanksgiving gift to you? Feast your eyes on the infographic below (along with the accompanying Coles notes) which acts as a handy cheat-sheet for those looking to revitalize their contact and call centers with simple changes (including gamification, service levels, and call-backs), all of which will continue to shape the landscape in 2019.
Service Levels
If your contact center is floundering, it's time for you to plant your feet on terra firma and look globally at your common problems. One of the first questions you should pose to yourself: How are our service levels? What do the numbers tell us about the time and efficiency of how calls are being handled? It's good practice to strike an optimum occupancy rate and revisit key performance indicators in an overall effort to improve service levels, as we discussed here. You should also ask yourself: Is our service level agreement achievable? If you require some solid advice on SLAs, and how to turn them around, we've got just the thing: Our latest report, "Call Center 101: The Golden Rules of SLAs".
Gamification
Even if you don't fancy yourself a hardcore gamer, 'gamification' will continue to factor into contact center strategies (especially given the continued development of new technologies). Gamification is endlessly useful for engaging and training new employees, as well as for boosting agent morale and staff engagement.
And: It can potentially increase productivity, improve service levels and overall business, lower attrition, and provide a hands-on way of assessing your call center agents' performance. Look it up.
Call-Backs
Call-backs are a powerful thing. In providing them as an option to customers, you are working some serious magic. All at once, you're: Putting an end to hold time (and thus giving customers their time back); lowering abandon rates; smoothing out spikes in call volume; improving the overall contact center agent experience, and improving the overall customer experience by leaps and bounds. This sounds too good to be true, yes, but it is very real, and worth reading up on.
Solid Strategy
What do a hockey hall-of-famer, a card shark, and a successful business tycoon have in common? They all know that shrewd strategy is the backbone of best practice. "Strategy" is general enough, but within the context of a contact center (one reliant on both human and technological elements), there is a multitude of strategies that deserve consideration given how much is at stake. Luckily, again, we have you covered. For instance, have you read up on strategies for improving customer loyalty? Have you considered voice-powered technology in your contact center strategy? What about strategies for BPOs? Crack your knuckles, and get strategic.
Agent Care
Last month, we sat back in our office chairs, scratched our furrowed brows, and asked ourselves: What's Holding Back the Contact Center Industry? One thing became clear: We should care more about our agents and provide them with the managerial, infrastructural, and psychological support they require. Caring for agents hugely improves contact center productivity and employee engagement, and lowers attrition rates. Try it. You'll see.
One of our favorite nuggets of wisdom comes from friend-of-the-blog CX guru Bill Quiseng (in fact, I call it The Bill Rule): "To earn new customers, don't try to get inside their heads. Get inside their hearts. Create an emotional connection." This is certainly true, and it can also neatly extend to the contact center agents who keep customer service departments buoyed for any brand. Show them some care, connect with them emotionally, and remember their humanity.
Opti-Channel Options
You've heard of omnichannel. You've heard of multi-channel. But have you heard of 'opti-channel'? With each iteration of its buzz-word, this concept sounds more and more ornate. Still, the core concept is one worthy of consideration for contact centers charging towards change. Take the time to ask yourself: What challenges do we face with the current channels we offer? Is there room for more? What are the preferred channels of our current customers? How would implementing an opti-channel solution optimize our business and our customer service offering? Asking these questions, and fleshing them out with a feasibility study, will make clear whether opti-channel is optimal for you.
These are six simple points of consideration when you're looking to make some small changes that have a large impact on your contact center ecology. Enjoy this infographic, like it, share it, love it, ruminate on it, frame it, applaud it, and use it as a reference point for many years to come.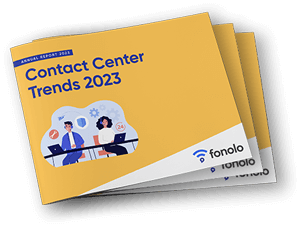 Trend Alert! Contact Center Industry Predictions for 2023
This report offers perspective on where the contact center industry stands today, plus our trend predictions for 2023.