It's been a big year for Avaya, probably the most important 12-month period in the company's long, storied existence. In January, Avaya emerged from bankruptcy with a newly listed stock (NYSE: AVYA); a balance sheet much lower in debt; a new management team; and a renewed focus.
Thus, today's earnings report was a milestone for the company and it was generally positive. Those of us cheering for a strong and competitive Avaya have a lot to be happy about.
The Numbers
In today's report, one of the most impressive numbers was "UCaaS/CCaaS seats grew 312% year-over-year". Counting seats is probably less satisfying for someone doing a purely financial analysis, but in many way this is a more important metric than revenue. This number, combined with their claim of "6800 new logos" is the strongest sign that Avaya is gaining market-share.
The full transcript can be found here. Slides are here.
On a generally tough day for the market, investors seemed to like what they saw:

That's quite a dramatic snapshot!
For the latest on the other stocks in that chart, see our recent post: Earnings Reports Show Call Center Momentum.
For more on Avaya's road out of bankruptcy, see Avaya Shakes Off Debt, Heading to Public Market.

Big Goals
One of Avaya's big goals was to show a commitment to cloud-based solutions. Part of that strategy was to acquire a company called Spoken and reorganize the company around a cloud group. See Avaya Accelerates its Cloud Pivot with Reorg and Spoken Acquisition.
They brought in Mercer Rowe to lead that group, but he was replaced less than a year later with Gaurav Passi (who is "President of the Cloud Business Group"). But progress was still made, for example via their exciting announcement of a cloud UCaaS offer in Germany. (Video courtesy of analyst Dave Michels.)
In today's call, CEO Chirico said: "We have expanded cloud by launching multi-tenant CCaaS, implementing a Master Agent model, growing our UCaaS public cloud to nearly 200,000 seats, and next week we will be launching a retail offer to compete in the SMB market."
Another big goal was around "openness". On this front, analyst Zeus Kerravala writes: "The new Open SIP phones are a good proof of Avaya's openness, as are its A.I.Connect and DevConnect developer programs, aimed at enabling third parties to build solutions that sit on top of Avaya software. This is a good start, but if Avaya wants to use this to differentiate itself, it will need to deliver continuous proof points."
Other steps
A small sample of the announcements this year …
The Road Ahead
Avaya's transformation over the last year was difficult but necessary. During that time, they managed to make a major acquisition, do a re-org, and launch some significant new products. But, as we noted here, the rest of the world isn't standing still. The call center world is moving quickly, and competitors were happy to lure away Avaya customers during the uncertainty of bankruptcy.
Here at Fonolo, we are rooting for Avaya because we like their products and because we frequently deploy our call-back solution on their platform. (In fact, last week Avaya published two new datasheets on using our product with CS1000 and Aura 8 systems.)
But beyond that, we all benefit from a strong and competitive Avaya because it forces everyone else in our space to keep moving forward. With that in mind, today was a good day.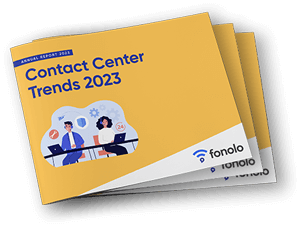 Trend Alert! Contact Center Industry Predictions for 2023
This report offers perspective on where the contact center industry stands today, plus our trend predictions for 2023.