Over a decade ago, in 2007-era Toronto, Shai Berger, Jason Bigue, and Mike Pultz launched a little rocket of a company called Fonolo, unsure of where and how far it would take them. Many memorable years later, and with more employees climbing aboard along the way, Fonolo has grown to be known as the pioneer in cloud-based call-back solutions, to the delight of those in the call center industry.
Today we are chuffed to announce yet another milestone moment in the company's growth and commitment to its customers: The release of our advanced new call-back platform. The new platform offers a breadth of new features supporting increased security, reporting, customization, and accessibility, intended to provide customers with the tools they need to handle the growing call-volume and complexity in their contact centers.
This is an historic day (or at least a really good one), a sentiment echoed by Fonolo's leadership: "Our goal is to empower companies with the most advanced call-back solution on the market today," says Fonolo CTO Mike Pultz. "Many of the upgrades we've made – from additional API functionality to enterprise security features – will allow our customers to more deeply integrate with our platform."
Currently available to customers, Fonolo's new call-back platform incorporates a number of key improvements, including:
A powerful new portal, with more advanced options for configuring and managing call-backs.
Improved reporting and monitoring capabilities, including more advanced real-time data reporting and dashboard graphs.
A new "responsive" widget for call-backs on web and mobile platforms which supports ARIA (Accessible Rich Internet Applications), designed to make web applications more accessible for peoples with disabilities.
Expanded API functionality, to support custom-built call-back applications.
An expanded geo footprint, to ensure fast load times regardless of where users are located.
Single sign-on using SAML 2 identity providers (IdP), which lets customers manage their portal logins from a federated system under their control.
New security features including audit controls, log-on history reporting, and customizable password policies.
In case you haven't heard of us and what we do (i.e. you've been living under a rock), Fonolo is the industry leader in cloud-based call-back solutions and has revolutionized the way contact centers interact with customers through web, mobile, and voice. Our powerful patented call-back technology empowers customers with an innovative alternative to waiting on hold. And, our award-winning solutions are trusted by a growing list of call centers that aim to enhance the customer experience. From Fortune 500 companies to SMBs, Fonolo is valued by customers for its scalability, expertise, and proven ROI.
For more information on our web widget and a complete suite of solutions, and to learn how your call center can reduce abandonment rates, smooth out call volume spikes, and lower costs, visit fonolo.com.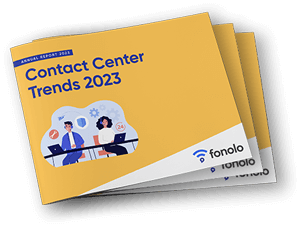 Trend Alert! Contact Center Industry Predictions for 2023
This report offers perspective on where the contact center industry stands today, plus our trend predictions for 2023.