We did it! We made it to the last blog post of 2018.
135 blog posts. Over 5000 Twitter followers. New initiatives. A new platform. New patents. New partnerships. New customers. It has been a busy, extraordinary year for Fonolo's growth across channels and industries, made possible by the ongoing hard work of our dedicated employees, partners, and clients. What drives us is our deep belief in strengthening customer service and customer experience for call centers and contact centers across North America, and the knowledge that our solutions are making customers happier than ever.
We've worked hard, so we thought it was time to have a little fun.
Sourced with Tweets from OnHoldWith.com (a Fonolo-powered site crawling Twitter for any mention of "on hold with"), Fonolo's departments came together to produce this short film, one telling a heart-warming, Grinch-infused customer service story. From all of us, to all of you: Enjoy this bit of fun, and have a happy holiday and an even happier new year.
See you in January!
Every Who down in Whoville liked great customer service,
But the Grinch who lived north of Whoville did not.
The Grinch schemed and he plotted and decided to strike;
He would drum up hold times with uncontrolled call spikes!
The customers, they groaned and they moaned.
"That's a noise," grinned the Grinch, "that I must hear!"
So he paused. And the Grinch put his hand to his ear.
The sound wasn't merry. It couldn't be. Customers were very wary of hold times!
And they were tweeting things. Mean things.
The Grinch's call spikes were causing quite a scene!
Then the sound changed and a new sound was rising over the Twitter-sphere.
It started in low.
Then it started to grow.
"Call-backs are here!" the people of Whoville began to cheer. "The end of hold times is near!"
It became clear that call spikes were no longer causing such a fright,
Thanks to Fonolo, who were leading the fight.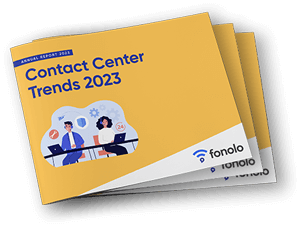 Trend Alert! Contact Center Industry Predictions for 2023
This report offers perspective on where the contact center industry stands today, plus our trend predictions for 2023.