December has arrived, which means different things for different people. While many of us are gearing up to slow down and spend quality time with family and friends, retail companies are bracing themselves for the clamor and chaos of the holiday season. From Black Friday to Cyber Monday to Boxing Day, this season signals a momentous time when consumers across the globe are ready and willing to spend, spend, spend.
Since most companies can anticipate a significant peak in sales during the final few months of the year, they can also anticipate a spike in customers, and in turn, a big increase in service requests. Here are a few things every retail company can do to maintain a high level of customer service and ensure that the momentum gained is maintained this festive season both in-store and online.
On-Board Temporary Support
Simple math will tell you that if you're doing double, triple, or quadruple the amount of sales you were last month, it's unlikely that your existing customer service or call center team will be able to handle the spike in volume of inquiries. This is why it's important to hire seasonal support staff for months where a higher-than-normal call volume is anticipated.
Another thing to consider is the quick and efficient education of this seasonal staff: Be smart and plan ahead: Put in place a protocol to find and on-board customer service reps as fast as possible. Prepare a training manual and ensure there is a management team in place to supervise and support the onboarding process. You'll be grateful to have all of this in place when the sales start pouring in!
Incentivize Your Customer Service Employees
The holiday season can be a difficult time for customer service employees. While many take this time to relax over the holiday season, customer service staff are busier and more taxed than ever. It is important for management to acknowledge this reality and find creative ways to recognize those working in customer service and call center roles. Managers can keep both morale and productivity high by incentivizing employees. For instance: Offer a paid day off in the New Year to the call center agent who closes the most amount of tickets in December.
Automate Repetitive Processes
There are many ways to make use of technology to help lighten the load of call center and customer service employees. Call-back technology at call centers prevents customers from waiting on hold for hours to speak to an agent. Live chats can use AI to answer basic questions from customers. Even a simple auto-response e-mail to let a customer know when they can expect to hear back from a company can be helpful; acknowledgement of a customer's outreach in advance of resolving the problem goes a long, long way.
Set Up Self-Service Portals  
Just like automation, self-service portals can also help increase efficiency and lighten the load of call center and customer service employees. If customers are calling in with the same questions and concerns, consider setting up an FAQ section on your website to direct customers to. This section allows them to quickly locate answers to their questions. It also frees up customer service and call center agents to deal with more complex issues.
While all companies love to see a spike in sales, it's important to recognize that this means that employing additional customer service support during these times is an absolute must. Companies should have protocols in place to ensure that call center and customer service employees have the support and resources they need to continue to provide great customer experiences. With a spike in sales and a spike in customer smiles, your company will be unstoppable this season.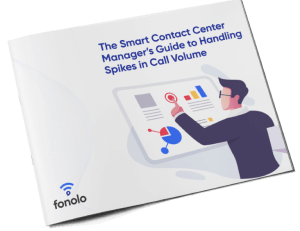 How to Manage Call Spikes in the Contact Center
Download this free guide to learn how to protect your contact center from call spikes.