We have 17 gifts for you today, or rather, 17 intriguing facts about call centers!
You may know a few of these already, but trust us: It never hurts to revisit some of the pivotal advancements, trends, stats, and interesting facts that have made waves in the call center industry (both past and present). With the "era of the customer" in full swing; the increase in customer expectation for omnichannel communication; and the never-ending developments in communication methods through AI-powered self-service; it is easy to overlook the importance that the call center plays in the customer experience.
Although customers begin their service journey with self-service before contacting an agent, the reality is that once self-service fails (which it does when the support issue is too complex, or when the stakes are higher for the customer), customers will take to their phones to resolve their issues. So, there is a limit to self-service, which will always lead the customer back to the loving arms of the call center.
Without further ado, here are some surprising, fundamental, and/or entertaining stats about the call center, a customer service lifesaver that is here to stay:
The most frustrating aspect of the customer service experience? Automated Telephone Systems (IVR) and "the inability to reach a live person for customer support." This is listed by 34% of U.S. respondents as the most frustrating aspect of the customer service experience.
44% of people surveyed in the U.S. still prefer phone or voice as their primary customer service channel. That's 21% higher than any other channel available, with live chat coming in second at 23%.
The global cloud-based contact center market is expected to grow from (what was) USD 6.80 billion in 2017 to USD 93 billion by 2022! That's a whopping 25.2% Compound Annual Growth Rate during the forecast period.
Gamification is the future of employee engagement and attrition for the call center. This keeps your employees happy and your call center on point!
The 80/20 service level metric used by call centers does not, in fact, fit for most call centers. Read more about why here.
Despite advancements in call-back technology, telecom, airlines, and retailers are among some of the worst offenders for putting customers on hold, and not offering call-backs.
Call center volumes have dropped by 17% since 2015. However …
There are currently 15 million people employed as call center employees. That number is expected to rise 15% by 2022 and reach 1.8 million!
$200 Billion is the current overall call center marketplace revenue. By 2022, that's expected to reach $407.1 Billion! Call backs anyone?
The call center outsourcing industry is expected to grow, regardless of geopolitics.
Customer experience is rapidly becoming the differentiator between what brands customers choose to do business with.
The earliest example of a call center is The Birmingham Press and Mail, where they used a GEC PABX 4 ACD in 1965.
The term "call center" originated in 1983 with the first sentence written in a Data Communications piece (according to OED).
The term "call center" is considered outdated, with most in the industry preferring the term "contact center" (reflecting our increasingly omnichannel world).
The future of the contact center lies in the symbiotic and harmonious relationship between AI/bots and the call center agent.
The longest hold time on record lasted five hours, 40 minutes and one second; in 2012, a customer was placed on hold by Australian Airlines for this jaw-dropping duration. Again: Call-backs, anyone?
The longest customer service call on record is held by Zappos employee Steven Weinstein with a call lasting 10 hours and 43 minutes.
These facts and stats teach us that call centers are not only interesting, but essential to the customer service industry. Self-serve has its place and will continue to change and grow, but given our desire as customers to interact with other human beings, call/contact centers and the voice channel aren't going anywhere anytime soon.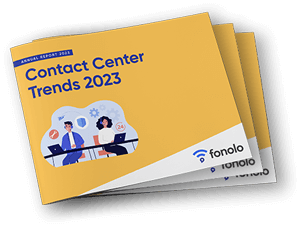 Trend Alert! Contact Center Industry Predictions for 2023
This report offers perspective on where the contact center industry stands today, plus our trend predictions for 2023.