Avaya made good use of its annual Avaya ENGAGE® conference to show off its new branding while impressing partners, press, analysts, and customers with its momentum. There were too many announcements at last week's show to cover them all in this post. So, I'll just touch on some highlights, give links to the most interesting coverage, and summarize what the analysts thought. We will circle back to some of the specific topics in later posts.
Right out of the gate, CEO Jim Chirico tackled one of the longest-running complaints about the company: The confusing product names. He said "We were, and in some instances, still are difficult to work with. But we have simplified our portfolio and our branding, as well as our product naming."
The new system revolves around "IX" which stands for "Intelligent eXperiences," and organizes the portfolio into four groups:
Avaya IX Digital Workplace: Calling, meetings, collaboration,  and devices
Avaya IX Digital Contact Center: Voice, omni-channel, desktop, and workforce engagement
Avaya IX Mobility: Call deflection to a digital channel and identity management
At the same time, all cloud initiatives are under a new OneCloud brand. You can find the press release here.
Is this really clearer than the previous system? Well, let's give it some time to settle.
In the meantime, remember: A confusing product line-up can be a feature, not a bug. If your go-to-market strategy is primarily through the channel (which is overwhelmingly true for Avaya), then you want to leave a lot of room for those channel partners to add value. A big part of that value is disambiguating the products and figuring out which configuration is right for a particular client. Look at Oracle: It's a $177-billion software company and most people can't name any of their products (other than by naming a company they acquired.) Same with SAP.
In other words, Avaya doesn't need simple, snappy product names to be successful.
Bankruptcy Receding from View
It's now been a year since Avaya emerged from a surprisingly smooth bankruptcy process. CEO Chirico didn't even mention it in his keynote.
There have now been three quarterly earnings reports without drama (mostly). See these post from March, August and November. We can safely stop adding "recently out of bankruptcy" as a parenthetical every time we mention their name.
Cloud Ambitions
The focus on the cloud continues. According to the newly appointed "President of Cloud Business", Gaurav Passi, Avaya has 3.5 million cloud seats currently in place out of 145 million total seats worldwide. He said, "We have a lot of work to do to move the next 140 million to the cloud." Those seats (across 3,600 customers) yielded $330 million in fiscal 2018 via cloud-subscription revenue.
Avaya announced "ReadyNow" which is a new private-cloud delivery model of its Avaya OneCloud solutions for UCaaS and CCaaS. They describe it as a "fully turnkey private cloud" and it's based off the Aura software stack (Are we still supposed to use the word "Aura"?). For a good explanation of the cloud strategy see Unpacking Avaya's New Cloud Solutions Portfolio by Frost and Sullivan.
For more on the call center's inexorable trend towards the cloud, see Call Center Cloud Conversion Continues.
Expert Opinions
O, wise and noble analysts, what say you?
"An upbeat vision … Recent hires and the return of several key executives give Avaya a deep bench of experienced managers to propel product development and delivery at the speed of cloud-native solutions providers." – Dan Miller
"I've always felt the size of Avaya's customer base [is] … an experience advantage that competitors can't match … [but] taking the customer base for granted doesn't do any good … Avaya has plenty of work ahead on making its products easier to understand and faster to deploy." – Zeus Kerravala
"I think that Avaya is focusing on coexisting with other collaboration vendors, rather than replacing them … They realize that they need to be able to operate in environments that may have Slack, Microsoft or Cisco … and are looking at ways to expand integration into Avaya's customer care solutions." – Irwin Lazar
"There were some notable gaps in the story presented this year. I suspect those gaps will be filled by acquisition, but of course, we will have to wait to see. Avaya is moving very quickly on some fronts (branding) and very slowly in other areas." – Dave Michels
"The customers and partners we spoke with at ENGAGE were generally pleased with Avaya technology and the options available to them. It's also highly notable that Avaya has changed over some key leadership positions to support its cloud initiatives. The onus is now, once again, on Avaya to execute." – Robert Arnold
"The plan for cloud at Avaya is to have 25% of the base in the cloud by 2021 … just three years. It will be interesting to see how cloud is defined and then where the numbers stand three years from today." – Sheila McGee-Smith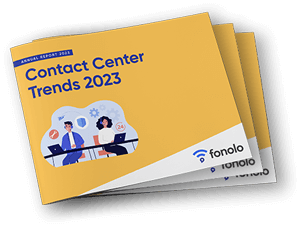 Trend Alert! Contact Center Industry Predictions for 2023
This report offers perspective on where the contact center industry stands today, plus our trend predictions for 2023.