For decades, companies have turned to Business Process Outsourcing (BPOs) as a way to cut costs and create efficiencies. This is especially true in the call center space where the term "BPO" is often used interchangeably with "outsourced call center". In the last few years, the call center outsourcing industry has seen revenues crossing $140 billion. This growth is expected to continue, with Cushman Wakefield predicting 6% yearly growth up to 2020.
At the same time, other major changes are impacting BPOs, namely: emerging technologies; a rising demand for re-shoring; and a surge in the number of customer communications channels used by businesses. A natural question that emerges from this scenario is: What will the BPO of the future look like?
Is your BPO prepared for the future?
BPOs are no strangers to facing and overcoming challenges. By their very nature, business processes are sprawling, live production services that touch an organization's most important asset – its customers.
Still, interesting times lie ahead for BPOs. Voice automation and AI have been making noise in the call center space. Oxford University's Carl Frey and Michael Osborn predict that call center functions have more than 95% probability of automation. On top of this, there has been a greater spotlight on companies "shipping jobs" overseas. Finally, new customer service channels mean that companies are looking for their agents to have broader skill sets.
So: Let's look ahead and try to predict the future of BPOs.
Join our panel discussion on Thursday, January 31st at 2:00 PM ET / 11:00 AM PT as the expert panelists from Concentrix, Expivia, and FCR debate the future of BPOs. You'll also be able to tweet your comments and questions to @fonolo with the hashtag #bpofuture, or comment on our conversation streaming live on YouTube.
fcr
We'll talk about:
The Impact of Automation
Rising Demand for Re-shoring
A Multi-Channel Future
Plus so Much More!
Who should attend:
VPs & Directors of Contact Centers
VPs & Directors of Customer Service
VPs & Directors of Web/Social Media
VPs & Directors of Customer Experience
The Panelists
CEO
Thomas is founder and CEO of award-winning Expivia, a USA BPO omni-channel contact center located in Pennsylvania. He has 25 years of experience in all facets of contact center operations
Twitter: @tlaird_expivia
Director of Customer Experience
With more than 15 years of customer service experience, Jeremy is Director of Customer Experience at FCR, a respected and disruptive outsourcer.
Twitter: @jtwatkin
Concentrix Analytics Practice Lead
As a seasoned consumer experience practitioner, Reagan leads the Concentrix Analytics Practice, where insights and predictions become an effortless experience.
Twitter: @reaganmiller
CEO
As a thought leader, innovator, and the CEO of Fonolo, Shai Berger is on a clear mission to educate the call center industry on how to improve the customer experience.
Twitter: @shaiberger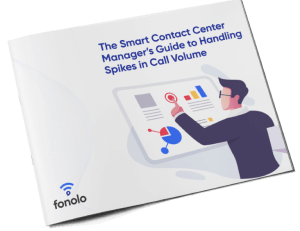 How to Manage Call Spikes in the Contact Center
Download this free guide to learn how to protect your contact center from call spikes.