"We are in the Era of the Customer," says Shep Hyken.
We are indeed. It's a modern reality where customers call the shots, armed with the knowledge that they have options. This includes their expectation of a certain level of customer experience, one that is seamless, omnichannel, and bot offerings. In fact, according to Forrester, today's "consumers have more tech at their disposal than ever before and it has fundamentally changed how they experience brands."
With more than 50% of companies already using chatbots, and 80% of businesses wanting chatbots by 2020 (says Oracle), bots have been, and will be, rapidly transforming the customer service and customer experience landscape, especially in retail. In an article by Retail Dive, "Juniper estimates that by 2023 over 70% of chatbots accessed will be retail based." Think about how many digital assistants, chatbots, and IVR's that actually refers to, and in what capacity.
Challenges
As one would expect, the rapid adoption of bots into the retail sphere, combined with the "expected" customer experience, has made for some highly publicized bot fails and bad brand publicity. Tay, Microsoft's despot-loving twitter chatbot (who was modeled to talk like a teenage girl), and Amazon's unpredictable Alexa (which ordered a $160 Kidcraft doll house and four pounds of cookies for a six year-old) are just two examples of many.
Yet, for all of its failures, it should be noted that bot failures today are not incident-specific, but rather lie in how they fail to meet the consumer's "expectation" of customer experience. As noted by Retail Dive, "retailers with large-scale service needs are increasingly turning to various forms of automated technology to support customer service operations." But, without a strategy or plan in place that outlines "why you are building and launching an automated representative of your brand," the effort is moot.
In addition to this, a misalignment of messaging and failing to properly represent your brand across all channels, especially with a chatbot, is a tremendous fail for any retailer today. Brands must deliver the "expected" customer experience or risk losing that customer: 75% of U.S. consumers are willing to stop doing business with a company if they encounter a negative customer experience.
Successes
Bots see success with their seamless integration with a customer's life, daily interactions with technology, and their favorite brands. According to Forbes, bots have evolved from their first iteration, or what is referred to as artificial narrow intelligence (ANI), to second generation artificial general intelligence (AGI). The latter is able to reason, plan, and solve problems (simple ones at least). That is, bots are now able to 'speak' and 'understand' to an extent that the conversation seems almost human. This represents a significant development in AI, and has seen great success in the retail landscape. With over 50% of retailers complementing their online services with chatbots, the ability for bots to converse on a somewhat natural level propels the customer experience to new heights. Take for example Sephora's chatbot experience: For a professional makeup company, it is  both on brand and on point. The chatbots provide a conversational experience that reflects the journey Sephora's customers have come to expect: Professional, personal, and top form.
Beyond this advancement, bots now understand hundreds of different languages and can converse in each one. This capability is advantageous for businesses expanding outside their local markets, as it opens up new customer sectors. To be sure, it allows businesses of all sizes, including small ones, the shot at a global presence. Chatbots with this capability are the simplest, fastest, and most cost-effective solution to the immediate language-barrier challenge. Teach a bot the ten most common languages in the world and you open up the possibility of conversation with over three billion people.
The Future
Conversational commerce is the way of the future. With advancements in AI, there is much to learn. Yes, retailers will continue to push for the development of chatbots and other forms of automation. However, chatbots are only as good as the customer experience they provide, and with the "era of the customer" in full force, the concept of retail is being re-written by the customer, bringing forth a scenario that combines customers' heightened expectations of a retailer and powerful bot-enabling technology.
Regardless, until consumers become comfortable with the notion of talking to a robot, and believe firmly that technology can solve all of their support problems, the demand for human interaction will not go away. In the end, chatbots are simply there to help, to speed up the sales process, and to lighten the load of the customer service representative and/or contact center agent. The key, as always, is having the two work in harmony, because when they do, the customer experience is unbeatable.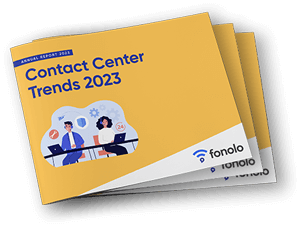 Trend Alert! Contact Center Industry Predictions for 2023
This report offers perspective on where the contact center industry stands today, plus our trend predictions for 2023.