This post was supposed to be about the "Top Contact Center Acquisitions of 2018", but two significant deals occurred in the last two weeks, and I didn't want to wait another year to include them on the list. Plus, we already published a blog on "5 Intriguing Call Center Acquisitions from the First Half of 2018", so there was no point in repeating some of the deals that were covered in that post.
We continue to see a very active M&A market in the contact center space. Sometimes people call this "consolidation," but I think that oversimplifies the motivations behind these deals.
So, here we go, in reverse chronological order:
RingCentral Acquires ConnectFirst
This was the deal that made me switch this post from a 2018 round-up. RingCentral is on a real tear. ConnectFirst gives them strong outbound calling functionality. This pairs up nicely with their October acquisition of Dimelo which gives them strong multi-channel customer engagement.
Like Thanos gathering infinity stones, RingCentral is putting together all the pieces for a fully competitive cloud call center. This is an important step towards CEO Vlad Shmunis's stated goal of $1b in revenue by 2020.
Read more about RingCentral here and here.
Private Equity Acquires Aspect
Vector Capital acquired Aspect Software. They didn't announce how much they paid but did say that they will invest $100m in the business. That's good news because the contact market is extremely competitive and everyone is spending big on product development.
Private equity is playing an increasingly large role in our industry. It was PE money that carried Avaya from its transition as a Lucent spin-off to its new listing last year as a public company (NYSE: AVYA). And, in Fonolo's corner of the universe, Alpine Investors acquired our good friends at VHT last year.
Twilio Buys SendGrid for $2b
This one was impressive for the size alone. It also made clear that Twilio doesn't see the classic definition of CPaaS as a limitation on its ambitions (see "CPaaS Triumphs: Now What?"). (In fact, CEO Jeff Lawson told me once that he really dislikes the term.)
Hats off to super-VC Bryan Deeter who was early into both companies. (What do you call it when two of your investments both become unicorns, both go public, and then one buys the other?)
We covered Twilio quite a bit in the past year. See here, here, and here.
October: ConvergeOne Acquires Advantel Networks
The reseller universe is one where the term "consolidation" really is proper to use. This acquisition by ConvergeOne (Nasdaq: CVON) makes a giant even bigger. They now exceed 10,000 customers, including 62 percent of the Fortune 100.
I think the importance of the channel is under-represented in commentary about the contact center space. 80% of Avaya's revenue is through the channel. Cisco and Genesys are also very channel-heavy. And between those three, that's 70-90% of the market, depending on how you count. So, the way the reseller world works is hugely influential.
We're going to try to pay more attention to that on our blog this year.
October: Liveperson Acquires Conversable
Conversable, covered here by VentureBeat, was part of the wave of bot euphoria in 2016. But the exuberance for this sector was, as they say, irrational. A bit of a bot-bust soon followed. Conversable was one of a few winners that have found a home. I think the bot concept will be a permanent part of the self-serve landscape, just not as transformative as people thought. See our coverage here, here, and here.
LivePerson (NASDAQ: LPSN) certainly has the resources to build on the early success of Conversable.
It's possible we'll see a resurgence with bot deployments, incorporating some of the lessons from the first wave.
September: Vonage Buys NewVoiceMedia
This was one of the more surprising deals of the year, and we devoted a blog post to it: "Vonage Acquires NewVoiceMedia: What Does it Mean?"
Four months later, the part that stands out more is how this positions Vonage as the natural opposition to Twilio. Their Nexmo acquisition competes with Twilio's core CPaaS offering. Both have SIP trunking businesses. And NVM can compete with Twilio's Flex.
Other Acquisition Lists
NoJitter posted a round-down of their top acquisitions, written by our good pal Dave Michels. We recommend. I didn't peek at his list before writing this one. (Honest!)
And: Don't forget to check out 5 Intriguing Call Center Acquisitions from the First Half of 2018 where we covered Cisco-Accompany, Genesys-Altocloud, NICE-Mattersight, 8×8-MarianaIQ, and Dialpad-TalkIQ.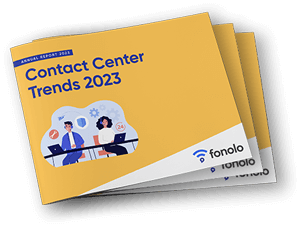 Trend Alert! Contact Center Industry Predictions for 2023
This report offers perspective on where the contact center industry stands today, plus our trend predictions for 2023.