It's been a while since we did a report round-up post. It's not for lack of material! Our inboxes here at Fonolo HQ are full of great reports covering call center technology and trends. The steady pace of industry news has simply made it hard to find a quiet week to slip in a post like this.
Below are four reports that we think are worth your time. Thanks, as always, to the companies that sponsor these reports. The availability of this information helps the whole industry become more innovative.
By the way, don't forget to check out the report we just released: On the Horizon: Customer Service Trends in 2019. It features a sparkling new sci-fi theme that helps to keep the pages turning.
Report # 1: The US Contact Center Decision-Maker's Guide 2018-19
Who wrote it: Contact Babel. Sponsored by Serenova.
Where to get it: Here.
About: We almost always include a Contact Babel report in these posts. They consistently produce data-rich, unbiased reporting. (Their "The Inner Circle Guide to Omnichannel Customer Contact" was included in our last report round-up post.) This report is the latest in their "Decision Maker" series which has both US and UK flavors (or "flavours," for our British and Canadian readers). This year's edition is based on questionnaires answered by 222 contact center managers and directors, and weighs in at a healthy 363 pages!
Key findings:
"Despite … growth in … web-based services, the importance of the voice channel has not diminished to the extent predicted by some commentators … Customers still find voice the most convenient, flexible and quickest communication channel in many instances…"  Well, you can say that again! The ongoing centrality of the voice channel is a recurring theme on this blog. See last week's post criticizing the New York Times for being the latest to practice lazy journalism by joining in on the 'robots will take our jobs' hysteria. Also, see "AI is Not Reducing Call Center Agent Employment."
The top reasons for disliking the waiting-on-hold process: "Not knowing how much longer you'll have to wait." "Repetitive announcements." "Having to restate account information already given." "Can't do anything else in the meantime."
The easiest way to solve hold-time frustration is to offer callers a call-back option. Shameless plug: Fonolo's cloud-based offering works with any call center, is quick to set up, and is affordable. If you want more motivation about how much hold-time angers your customers, check out onholdwith.com.
"Little research has yet been carried out into the expectations of customers around webchat service levels …" For web-based chat, the average wait times are less than 10 seconds for 17% of respondents and less than 30 seconds for a further 42%.
Proponents of "messaging" as a replacement for "chat" cite these wait times as an advantage of the former. When the conversation is over a channel like Facebook Messenger or Apple Business Chat, the "asynchronous" style means replies can be at a slower pace, persist over multiple sessions, and be interspersed with other activities. For more on this, see here and here.

Our favorite chart:
Report #2: Contact Center Technology Survey
Who wrote it: Lori Bocklund at Contact Center Pipeline.
W
here to get it: Here.
About: The author surveyed 216 contact center professionals and released this report in July of 2018. About 50% were executive, director, or manager level, with the rest an even mix between IT managers, consultants, analysts, and corporate executives. That's a good blend of titles. But in terms of vertical, there is a strong skew towards financial services (37%), so keep that in mind. What's unique about this one is a focus on the attitudes of executives: What is driving their buying processes?
Key findings:
The biggest concerns about deploying cloud technology is security, lack of control, reliability, and TCO.
Security seems to be registering higher these days as the top fear. That may be a result of the many high-profile data breaches that have happened recently, and the current focus on privacy issues. Nevertheless, the industry's steady march toward the cloud continues.
"Integrating disparate applications into a coherent contact center technology architecture remains the number one challenge … [exacerbated by] … chronic shortage of IT and telecom resources … elevating the appeal of single-vendor solutions as well as leveraging open platforms and APIs."
That interest in open platforms and APIs lines up with the growth of Amazon's AWS Connect offering and Twilio's Flex offering. For more on this, see "The Twilio / Amazon 'Stack' Will Dominate the Next Call Center Era."
The top evaluation criteria is now "features/functions" as opposed to cost which was the top criteria when the study was done 6 years ago.
It may be that costs over-all have come down as a result of competitive pressure and the lower costs of delivery via cloud. For more on this, see "Amazon, Twilio, and Vonage Lead the Way to Pure Consumption Pricing."
Our favorite chart:

Report #3: Choose the Right Customer Service Solution for Your Business
Who wrote it:  Ian Jacobs and Kate Leggett at Forrester. Sponsored by LogMeIn.
Where to get it: [NO ]
About: Full Forrester reports are not usually available for free, so a special thanks to their sponsor LogMeIn for making it so. We have featured content by authors Jacobs and Leggett many times on the blog. They are both on our list of Top Contact Center Analysts. The subtitle of this report is "Contact Centers for Customer Service Playbook," and the "Playbook" is a good description of what it is.
Key findings:
"60% of US online adults indicated that they used help or FAQs on a company's website; 59% used the phone; 54% used email; 45% used chat; 31% used SMS, and 30% used Twitter in the past 12 months when they required customer service."
These stats line up with channel preferences described in the Contact Babel report above and other sources. Although: Beware of placing too much weight on these kinds of snapshots. See "How Will People Contact Companies Next Year? Beware Cohort Behavior Studies."
"In most cases, firms implement [customer service] technologies in functional and technological silos … remain disconnected from customer databases or case management systems … [you] should thoroughly audit all similar technologies that the enterprise owns before purchasing …"
It's true that there is a lot of overlap between, say, marketing, customer success, and customer service teams, especially as the worlds of CRM and call center collide (See: "Is a Call Center Just a CRM Feature?") So, this sounds like wise advice.
"Outsourcing does not always cut costs and can carry a significant amount of management overhead. Consider how it can help improve current customer service capabilities and provide more options for quickly rightsizing operations to adjust to business demand."
The pros and cons of Business Process Outsourcing is always a hot topic. The chart below is a great comparison of the role played large, medium, and small BPOs. In our hang-out last month, we had a great discussion from three industry representatives – one from each of these categories. You can watch highlights here.

Our favorite chart:
Report #4: Cloud-Based Applications to Transform Customer Service
Who wrote it: Mary Wardley and Donna Nitchie from IDC. Sponsored by Genesys.
Where to get it: Here.
About: IDC surveyed more than 400 professionals in customer service and contact center functions. We're including this report because of its strong global focus: The survey includes participants from 27 countries in North and Latin America; Asia Pacific; Western, Central and Eastern Europe; and the Middle East and Africa. The report's appendices have region-specific results.
Key findings:
"… 72% of organizations that use cloud-based applications in customer engagement centers have benefited from improved CX."
The move to cloud is certainly one of the big trends in customer service. As the IDC report notes, this goes far beyond just the call center. For more on customer service trends, see our latest whitepaper.
"… cloud contact center solutions helped 71% of organizations easily scale up or scale down … in response to seasonality fluctuations as well as in the event of disasters."
Spikes in call volume are one of the trickiest aspects of managing a call center. We covered it here: "Using Call-Backs to Cope with Spikey Call Volume."
Within contact center products sold, cloud-based products accounted for 23.3% of in 2016; 26.4% in 2017; and are expected to reach 49% in 2022.
The shift to cloud has been closely watched, but it's rare to find numbers for the global market. For more on this, see "Call Center Cloud Conversion Continues.

Our favorite chart: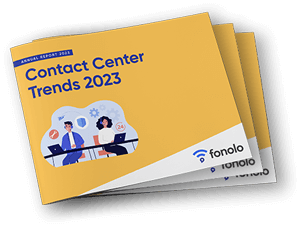 Trend Alert! Contact Center Industry Predictions for 2023
This report offers perspective on where the contact center industry stands today, plus our trend predictions for 2023.