It's hard to believe, but the WordPress dashboard doesn't lie: This is our 1000th blog post!
From the very beginning, we knew we didn't want the blog to just be a tool for self-promotion. Too many company blogs are filled with recycled press releases and thinly-veiled cheer-leading. Our hope was that a) we could develop a loyal audience by covering topics beyond the immediate neighborhood of our product; b) we would do this with a quasi-formal journalistic ethic (e.g. objective tone, footnoting sources, high-quality images); and c) we would do this often (three times a week!). I'm happy to report that the plan paid off and we now have thousands of loyal readers.
Initially, we focused on more technical aspects of the contact center, but over the years we expanded to include more of the human aspects of that industry, and the broader universe of customer service as well. Many of our posts fit into one of several recurring themes. For today's retrospective, we went through the main themes and found the most popular posts for each. Hope you enjoy!
The Importance of the Voice Channel
This is a topic we've been covering almost since Day One. One the recurring tropes in our industry is that consumer behavior and/or new channels and/or AI will lead to a decrease in the importance of the plain old phone call.
Nobody Knows if Voice Is Growing or Shrinking
Is there #VoiceShrinkage in the Contact Center?
AI is Not Reducing Call Center Agent Employment
Chat, Messaging, and Customer Service
One of the biggest trends in customer service is the use of text-based channels for communicating with agents. The emergence of third-party messaging networks like Twitter, Facebook Messenger, and Apple Business Chat have made that landscape more complicated.
Apple's Business Chat Has a Golden Moment to Dominate Customer Service
Is Chat Eating into Phone-Based Customer Service?
Chat vs. Messaging Comes Down to Who Owns the Channel
Call Center Metrics
This was a topic we focused on in the earlier years, but less so recently. Some of these posts are still the most read from the archives. Some highlights:
Contact Centers Focusing Less on 80/20 Service Level
4 Pitfalls When Measuring Occupancy Rate
Migration to Cloud
The migration of call centers from on-premise equipment to cloud services has been one of the mega-trends of the past decade. We've been tracking it by regularly looking at different statistics and surveys from industry reports.
Call Center Cloud Conversion Continues
Legacy Call Center Vendors Jockey for Position
Some Fuzz Around Call Center Cloud vs Premise
Call Center Agent Culture
This is a more recent topic for the blog. From my perspective, the human aspect of running a call center is much more challenging than the technology aspect. We tip our hat to the managers that face the day-to-day challenge of hiring agents and keeping them in good spirits.
The Anatomy of a Successful Contact Center Manager [Infographic]
Why You Should Empower Your Customer Service Team
Telltale Signs: How to Identify Call Center Agent Burnout
Customer Experience Trends
The contact center really just one component of the bigger world of customer service or customer experience. As the years have gone by, we've tried to talk about the contact center in this broader context.
On the Horizon: Customer Service Trends in 2019 [Report]
CX Trends You Need to Watch in 2018 [White Paper]
Life Lessons: What IKEA Gets Right About Customer Experience
#OnHoldWith
A few years ago, we launched OnHoldwith.com, a companion site that compiles complaints on Twitter from people that are waiting on hold. It's a dramatic – and sometimes entertaining – reminder of how much frustration and anger is caused by a problem that could actually be solved quite simply. Periodically, we take the data from OnHoldWith and publish lists for some friendly industry shaming.
Hold It!: The Top 10 Worst Companies You Called in 2018
Who are you #onholdwith? The Top On-Hold Offenders in the Airline Industry
Top 10 OnHoldWith Offenders this Quarter (2017)
Industry News
Talking about big product launches and acquisitions has always been a big part of the blog. These posts are always an extra challenge because we want to react to news quickly, so it can throw off our "editorial calendar." But having an occasional newsroom-like urgency is a great rush.
The Top Contact Center Acquisitions of the Last 6 Months
1 Year After Bankruptcy, Strong Signals from Avaya
Vonage Acquires NewVoiceMedia – What Does it Mean?
Why Every Contact Center Should Offer Call-Backs

Of course, we have to talk about call-backs and all the ways that they improve both the customer experience and the operational efficiency of call centers. We try to do it in a vendor-neutral way so that people can read these posts as objective sources that will help guide their decisions.
Are Call-Backs the Missing Piece in Your Call Center?
#Trending: Call Centers Are Addicted to Call-Backs
Scheduled Call-Backs Are a Call Center Superpower
Customer Success Stories
We try not to toot our own horn too much, but we love sharing stories of customers who have successfully deployed our call-back solution.
Success Story: How a Credit Union Improved the Customer Experience with Call-Backs
Success Story: How an Insurance Provider Improved the Customer Experience with Call-Backs
How a Furniture Retailer Boosted Customer Experience with Call-Backs
Industry Analysts and Reports
We love the analysts in our industry! We are very fortunate to have diligent and perceptive analysts working in this space. We are even more fortunate that so much of their work is available to the public. It makes everyone more competitive and helps the industry move forward faster.
4 Contact Center Reports to Kick off 2019
4 Insightful Contact Center Reports You Should Be Reading
Top Analysts Covering the Contact Center Industry
Keeping AI and Chatbots in Perspective
I have to admit this is a bit of a pet project of mine. But the posts do get attention! No term has been more abused in our industry than "AI." But this isn't a simple debunking because there are amazing breakthroughs happening in AI. So, I've been trying to figure out (for myself as much as for the reader) exactly how one can separate reality from fluff.
The Undead: AI Can't Die Because its Definition Keeps Changing
No, Google's Duplex is Not Going to Replace Call Centers
How to Think about Chatbots in a Big Picture Kinda Way
See you after another 1000 posts!
I am only one of the writers on the Fonolo blog, but speaking just for myself, I can attest to the benefits of blogging. One of the famous stories about Amazon's management style is the centrality of long-form written memos. Jeff Bezos said of the practice: "It forces better thought and better understanding of what's more important than what."
So, I encourage start-up executives to get into the habit of blogging. The act of writing on a regular schedule helps to discipline your thinking. There's no better way to understand a topic than to explain it to others.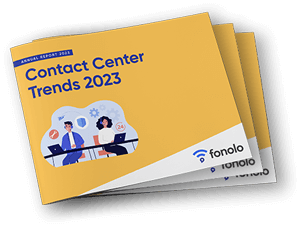 Trend Alert! Contact Center Industry Predictions for 2023
This report offers perspective on where the contact center industry stands today, plus our trend predictions for 2023.