Have you encouraged a frustrated employee to stay positive after a particularly deflating customer interaction? If you have, you were tacitly acknowledging the importance of positivity in customer service.
When you boil it down, great customer service is about having a positive influence on the customer's experience of your organization. If your own staff are feeling negative or pessimistic, it's difficult for them to provide that highly positive experience.
The problem is that you can't always be there to offer a few words of encouragement. So, how do you ensure the practice of positive psychology? Simply: By ensuring that elements of positive psychology are a part of how your organization operates. In case you aren't familiar with the concept of positive psychology, here's an abbreviated definition from the Positive Psychology Center at the University of Pennsylvania:
Positive psychology is the scientific study of the strengths that enable individuals and communities to thrive.
Here are three important ways that you can apply some of the approaches emerging from the growing field of positive psychology.
Create a Culture that Encourages Empathy
It's often said that empathy in a call center can not only improve a call but also improve a customer's overall experience. What is not talked about enough is the importance of "organizational empathy" and designing systems that encourage it. Concern for what others are going through and taking steps to help them can be, as Aimee Lucas writes, "blocked by organizational systems that create time pressures, emphasize taking a task (rather than person) focus, or establish a high cost of making errors."  This is problematic as empathy has been shown to correlate with increased prosocial behavior, positivity, social closeness, and well-being.
If companies want to foster a positive environment, they need to look at the culture of the organization and make adjustments where needed to encourage empathic concern for others. As the CEO of Redstone Federal Credit Union argues, "We focus on culture because it produces organizational results and guides the way we think."
Develop a "Language of Strength"
While developing a "language of strength" sounds scarily Orwellian, it's really not. As we discussed in a recent post on burnout, agents are required to deal with challenging, frustrated customers, with the knowledge that the calls (and their performance) are being monitored and timed. While this is simply an aspect of the job, it can become hard for your employees to identify with the positive qualities of their work and even their own strengths.
The challenge is that most people tend to dwell on negative events or emotions and ignore the positive ones. One way to reverse the focus is to use techniques aimed at shifting attention to more positive experiences. For example, in any team meetings, ask your customer service reps to scan over recent customer interactions and recount what went right. It's important to celebrate the wins and tie in small achievements to the larger purpose of the organization.
Make Work Meaningful
The now-famous study from Dr. Adam Grant found that call center employees at the University of Michigan who had the task of cold calling alumni to ask for money performed better when they got to meet scholarship recipients and speak to them first hand. Once the call center workers realized the impact of their work, they became motivated to work harder, which eventually increased weekly revenue by 400%.
Meaning can be sourced from many different areas on the job, anything from having learning and growth opportunities, to seeing the impact of the end-results on those who benefit from the work that was done. For example, Golden 1 Credit Union abides by a "stronger together" community approach and ensures this is not only apparent in their vision statement, but extends to every aspect of the organization. It's clear that regardless of the exact source of this meaning, it nurtures a more positive, proactive employee.
You can encourage positive psychology in your customer service organization by creating a culture that allows for greater empathic concern for fellow employees, celebrates the wins, and strives to make work more meaningful. While this may seem ornamental to providing excellent customer service, positive customer service reps will be friendly and more engaged with customers. They'll also get along better with other team members and put in extra effort to deliver WOW service experiences. In this environment, both your employees and the business succeed.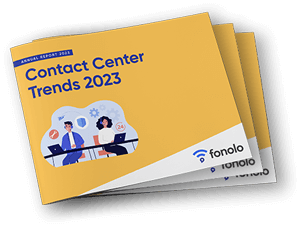 Trend Alert! Contact Center Industry Predictions for 2023
This report offers perspective on where the contact center industry stands today, plus our trend predictions for 2023.