Contact center software and CRM software have been on a slow collision course for decades. It's not hard to understand why: They both deal with customer communication so the boundary was destined to get blurry. Now that both worlds are increasingly cloud-based, the collision is accelerating.
How can we make this more concrete? How can we figure out how far along the process is? Well, it would be great to look at how companies were paying for the whole "customer service" apparatus and see which share is going to CRM companies versus call center companies. But this "share of spend" approach is very hard to do.
Another way to do that is to look at what's happening at the agent desktop.
Hard Question: How is "Share of Spend" Changing?
Why is it hard to figure out the spending split between CRM and call center software? Both are sold (mainly) on the basis of "seat licenses," right? Well, first, companies don't always make that kind of data public. Second, CRM seats cover more people than just those working as call center agents, so it wouldn't be an apples-to-apples comparison. Third, what's included in the "seat license" can vary greatly from vendor to vendor.
Easy Question: What Does the Agent Look at All Day?
We can think of "share of agent desktop" as a heuristic of "share of spend." It's not perfect, but it's an easier question to answer.
Reporting from Five9's analyst summit last week, analyst Sheila McGee-Smith tweeted a dramatic statement from CEO Rowan Trollope. He said "The CRM vendors have won the battle of the desktop. The game is over. Our competitors have not all come to the same conclusion because they have more to lose."
.@rowantrollope The CRM vendors have won the battle of the desktop. The game is over. Our competitors have not all come to the same conclusion because they have more to lose. #Five9AnalystSummit pic.twitter.com/9J8O1Ftafn

— Sheila McGee-Smith (@McGeeSmith) March 7, 2019
I was intrigued by the "more to lose" part of that sentence. Should we read that as implying that the Five9 desktop experience isn't that great? I know that configuration and customization of the agent desktop is a big source of billing for channel partners. Avaya, Genesys, and Cisco are all very channel-heavy in their sales approach. So, is this saying that they don't want to concede the agent desktop because then their channel partners will have less custom work to bill?
[UPDATE! Just a few hours after this post came out, Sheila McGee-Smith shed more light on the issue in this scoop: Google Brings Contact Center AI to Salesforce… Via Five9.]
Cloud is the Driving Force
The adoption of cloud-based solution is a force that accelerates the merging. That's because cloud applications can evolve faster.
We're in the second decade of the grand cloud transition, but when it comes to call center and UC, we're still at the beginning (See "Data Dump: Update on Call Center Cloud Migration.") The CEO of RingCentral found an impactful way to demonstrate this at the RingCentral analyst event last week. Vlad Shmunis has a gift for the soundbite. (One of his favorites is "Cloud is winning, and RingCentral is winning in the cloud." That's from here.)
As it turns out, he has a flair for visuals too. He shared a slide showing Venus transiting the Sun, an analogy for how much cloud conversion is still ahead of us.
See the related image via analyst Blair Pleasant's write-up. (Analyst Jon Arnold also covered it.)
Merging Galaxies
Continuing the celestial analogy theme, I like to think of the call center world and CRM world as two galaxies merging. Both are massive sectors. Both pull along thousands of resellers, integrators and assorted consultants in their orbit.
Interesting thing about galaxies merging is that
none of the actual stars collide
; there's just too much space in between them. (Cool, huh?) Going back to our analogy: Just because we have a merging of these two big industries doesn't mean individual vendors will get knocked out. But the orbits get chaotic for a while.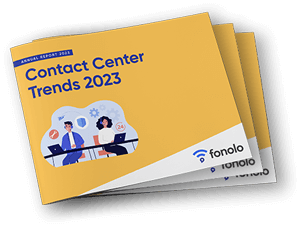 Trend Alert! Contact Center Industry Predictions for 2023
This report offers perspective on where the contact center industry stands today, plus our trend predictions for 2023.