Call center executives are constantly under pressure to find cost-savings. Yet, according to the Harvard Business Review (HBR), "acquiring a new customer is anywhere from five to 25 times more expensive than retaining an existing one." The key takeaway is that you cannot skimp on customer service. So, how do you reduce costs while not damaging your customer service function? Investing in the right technology can go a long way in reducing costs while actually improving the overall quality of customer service. From effortlessly providing customer support in any language to managing staffing requirements as a result of call volume spikes, implementing the right technology can be transformational.
How to Reduce Contact Center Costs AND Improve Customer Service
To achieve the kind of cost savings that truly impact the bottom line, contact center leaders need to reconsider the typical ho-hum tactics. Improving scripts and workflows to shorten calls will only get your organization so far. The answer? Invest in cost-saving technology that will reduce overheads and improve the quality of your customer care.
Learn how by registering to watch this live one-hour webinar. You'll hear from Kaarina Kvaavik, co-CEO of Language I/O, Andrea Paragona from Constant Contact, and Shai Berger, CEO of Fonolo.
A sneak peak at a selection of the slides!
---
We talk about:
How you can save 40% on customer service costs
The cost-reducing impact of call-back technology
Successful case studies
Plus, so much more!
Who should watch:
VPs & Directors of Contact Centers
VPs & Directors of Customer Experience
VPs & Directors of Customer Service
VPs & Directors of Contact Channel Performance
Speakers: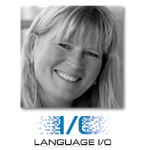 Kaarina Kvaavik, co-CEO, Language I/O

Kaarina is co-CEO of Language I/O, a developer of software that allows customer support agents to provide multilingual customer support in any language, across any channel, integrating with all major CRMs. With over 20 years in the high-tech and language industries, Kaarina is a tremendous resource in this space.
Andrea Paragona, Senior Manager Knowledge Base Team, Constant Contact
Andrea is the Senior Manager of the Knowledge Base Team at Constant Contact. With over 20 years of writing experience, she is responsible for content strategy and implementation of solutions designed to increase customer success and support long-term customer retention. Her team is a 2019 Stevie Award winner for Back-Office Customer Service Team of the Year.
Shai Berger, Co-Founder and CEO, Fonolo
Shai is the Co-Founder and CEO of Fonolo, a leading provider of cloud-based call-back solutions. As an innovator in the space, Shai is on a clear mission to educate the call center industry on how to improve the customer experience.