Certain commentators in the customer service space have been predicting the death of the call center. While it's true that channel preferences are shifting, it would be incorrect to conclude that the voice channel will be buying the farm anytime soon. In fact, as we've argued before, phone calls are still essential to the success of customer service.
It's true that self-serve options have become more effective at handling "easy" transactions: For example, large swathes of consumers use these online interfaces to track packages or confirm reservations. This means that when customers make a phone call, their queries are typically more complex and contentious. So, the stakes are raised, and it's even more imperative that call centers exceed the expectations of customers.
To help with this, here are five things customers want (and expect) when they phone in to a call center.
Fast Resolution
Research from McKinsey shows that the one thing customers want more than anything else is a rapid solution to their queries. One way to achieve fast, first-call resolution is by making customer information readily available to agents. In fact, 84 percent of customers say they are frustrated when an agent doesn't have their information at hand.
Consider integrating your call center phone system with your customer relationship management (CRM) software so that a caller's account information appears on an agent's screen when the customer calls. With this information in front of them, agents are better prepared to resolve a customer's concern.
Transparency and Accountability
Have you ever finished a call with an agent, only to discover the issue was not resolved? Then, when you call again, you are told that there is no record of the initial call? There's nothing worse than feeling like you've been lied to or sent on a goose chase. There are plenty of ways to make sure this doesn't happen, such as a) providing customers with transcripts; b) having agents clearly say their names/introduce themselves; and/or c) giving customers reference numbers. According to a study, 94% of customers said transparency was important to them and influenced their purchasing decisions.
Ease of Access
According to one study, 90% of customers who call a company want to speak with a representative. Anyone who has experienced a self-help menu knows: IVR does not equal a real person. Automated processes, when set-up incorrectly, can confuse customers. Customers try to avoid them altogether. They may repeatedly press numbers or say "agent" without fully listening to the options available to them. The bottom line is that it's crucial to make it easy to access an agent. You can do this by keeping your IVR options to a minimum and limiting the number of possible "sub-routes."
Reduce Hold-time
More than 69% of customers say that they are kept on hold too long when they call. Customers do not want or expect to be put on hold. Hold time is one of our favorite topics at Fonolo. We've written about how it kills your customer experience, alienates your customers, and leads to a host of angry tweets. How do you fix hold-time? By employing a call-back solution. Customers can choose to receive a call when an agent is free, reducing abandonment and giving customers back what they value most – their time.
A Good First Impression
Telephone manners are critical to good customer interactions. Call center agents have to be polite and lead the call, even if the customer is frustrated because of a problem or service failure. This starts with a good first impression. Calls are often "won or lost" in the first 30 seconds. Think of these initial seconds as your chance to offer a "verbal handshake." It's a simple process of acknowledging the caller and signalling that you are in control of, and will lead, the call.
Understanding the customer's expectations is key to providing wonderful customer experience. This, paired with the changing nature of the voice-channel, is a lot for call centers to adapt to. Making changes such as simplifying your IVR and encouraging transparency can go a long way in improving customer satisfaction.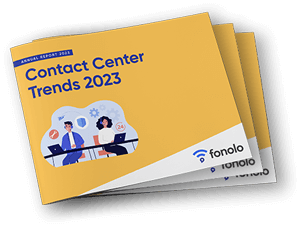 Trend Alert! Contact Center Industry Predictions for 2023
This report offers perspective on where the contact center industry stands today, plus our trend predictions for 2023.