It was just last year that Air Canada was flying high after being named Best Airline in North America by Skytrax, an independent U.K. research firm that surveys 20 million global travelers yearly. Another fun fact: Air Canada is the only four-star-rated international carrier in North America. This certified airline rating system is recognized as an industry benchmark of airline standards in airport and cabin staff services' onboard products; and business-class lounge offerings. Air Canada even won the Air Transport World's Eco-Airline of the Year in 2018 and, the year before that, was listed as one of Canada's top 100 employers by Mediacorp Canada Inc.
On paper, our beloved national airline, this flag carrier, is a nerdy octogenarian with an affinity for collecting accolades. So what, you may ask, is Air Canada doing in OnHoldWith.com's top three worst company overall and top four in the airline industry in terms of the number of customer complaints in the Twitterverse?
Onholdwith.com is somewhat like the Razzies of industry awards. It's a real-time aggregator of Twitter public outcries from customers being put on hold, and it reveals Air Canada's less than shiny reputation for customer service at their contact centers. In one macro glance, the site paints a picture of the airline's hold times which range from an inconvenient 20 minutes to an unacceptable three hours (sometime plus).
One customer tweeted in March that she was on hold for an hour, two days in a row.
@AirCanada second day in a row I was on hold for over an hour. Is there anyway to get a call back before I choose to never use you for flights again?

— Kelsey belsey (@titterkelsey) March 19, 2019

Another customer who needed to change flights last month probably thought the third time was the charm before she became disenchanted on her third failed attempt (which lasted over an hour).
@AirCanada been on hold for over an hour today. Half an hour yesterday and 45 minutes the day before. I need to change my flight. This is ridiculous

— lana (@Lana1995X) March 22, 2019
Navigating cancellations of the Boeing 737 Max flights
It became even tougher out there for airline passengers recently after regulatory authorities, including Transport Canada, abruptly grounded Boeing 737 Max 8 jets in light of two deadly crashes of the aircraft series in October 2018 and March 2019. The long, confusing process of rebooking cancelled flights are not flying with Air Canada customers.
@AirCanada been waiting on hold for a while I need my flight rebooked as my flight from PSP to YYC was cancelled. My family needs to be home tomorrow and I NEED to talk to someone!!

— Tim Postma (@timpostma) March 16, 2019
@AirCanada I've been on hold with you for 1 hr. 25 min.  Are you offering full refunds for flights you have cancelled due to MAX8 grounding?  https://t.co/oykhID0QRf shows my flight for Mar 17 to Kona has been "cancelled"  I have not received any email etc. from you.  Pls advise.

— Barbara Parkin (@barbjparkin) March 15, 2019
@AirCanada
Hi there, I tried to call your phone lines but I was on hold for more than one hour. My scheduled flight is on March 15 Friday 10 am with a Boeing 737max 8 aircraft. I just want to confirm our flights but can't get through.

— Judith (@Judith62211327) March 14, 2019
Air Canada media relations told us that the company brought in extra staff through overtime and recalled recently reassigned call center employees to handle the increased volume of calls caused by the 737 Max flight cancellations. Passengers who booked these now-cancelled flights are given a dedicated line to better serve them. "As of this morning," Air Canada's media relations told us on March 29th, "the wait time on the dedicated line is virtually zero, although it may lengthen a bit through the day."
"This situation has been quite a challenge for all airlines. In our case, without any warning, 24 Max aircrafts were removed from our fleet and the 9,000 to 12,000 people we normally carried on the Max suddenly had to be re-accommodated," they add.
While Air Canada could not be blamed for the recent aircraft grounding, this tweeter might be on to something:
It's not just this event with #Boeing737MAX8 ban that @AirCanada neglect thier customers. I was on hold with customer service for over an hour just on a regular day for a flight check months ago! On flight no better! @CityTv proved all 6 phones at airport for service down!

— Michelle Messina (@filmqueen) March 14, 2019
The problem with flying
We love to think of airports as they appear in movies: Romanticized portals into other worlds and destinations. These shiny, sprawling spaces illuminated with big-screen departure schedules are usually the prelude to a brief jaunt into a new experience: A fresh start in Japan, a sojourn in Rome, a moment in a New York minute. But as anyone who has ever traveled knows, it is ground zero for commuter rage and pre- and post-flight gripes.
Airplane delays, missed connections, lost baggage, long security lineups, and abruptly-cancelled flights are hardly romantic. What's worse is that, at times, we feel alone in the journey to getting answers.
A Global Passenger Survey (GSP) carried out by International Air Transport Agency (IATA) states that some of the top passenger preferences in the 2018 survey included efficient, paperless, and self-serviced airport experience via electronic boarding passes and baggage trackers, biometric IDs, smartphone check-ins, self-service bag drops, and app flight notifications.
Air Canada has led its home country and continent in these innovations. In 1999, it implemented the country's first self-service express check-in kiosks. In 2007, it was the first in North America to introduce mobile check-in with electronic boarding passes. It also led the continent in leveraging email and text messaging in notifying passengers of delayed or cancelled flights and gate change details in 2009, and in the same year released North America's first airline mobile applications for Apple and Blackberry. These featured real-time flight tracking, electronic boarding passes, and itinerary change notifications.
But despite all this appetite for automation, IATA finds that most people still want to talk to a real person when things go wrong.
The human touch: There's an app for that
The IATA 2018 survey finds that passengers still want "a human touch when delays and disruptions arise." According to the survey, 40 percent of all airline passengers prefer resolving travel disruptions over the phone while 37 percent would rather have face-to-face interaction.
So why are Air Canada passengers taking to Twitter, Facebook, and other social media platforms with their unresolved complaints? As much as the airline is an industry leader in innovation, it is still behind in one of the most basic customer service offerings: Prompt and effective customer service from different platforms — and that includes social media, chatbots, and apps, in addition to improved call center experiences.
Some companies have found a modern-day solution to the latter via call-back technology, an offering that allows customers to opt for a call-back from the next available agent (or at a scheduled time) rather than waiting on the line indefinitely. It is 2019, after all, so the fact that such convenient technology exists is no surprise.
Many of us want to get past the antiquated process of reaching customer service by phone, only to be put on hold for more than 20 minutes, even hours, at a time. We want to remember our much-anticipated vacation to, say, New York, not the experience of being put on hold for the same amount of time we would've taken to fly there.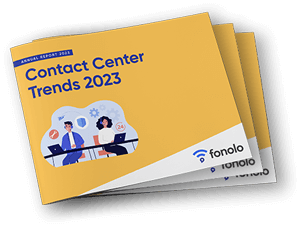 Trend Alert! Contact Center Industry Predictions for 2023
This report offers perspective on where the contact center industry stands today, plus our trend predictions for 2023.