While call centers continue to be a crucial component to a company's customer service strategy, digital avenues are also becoming increasingly popular. In order for brands to remain competitive and provide the level of service consumers are expecting, they must take a multi-pronged approach to their customer service tactics.
The call center remains the ideal avenue to funnel in customers who are less tech-literate as well as those with more complex concerns. However, social media is an excellent avenue to resolve less complex concerns that a buying public are hoping to resolve quickly.
Let's take a look at a few brands that provide great examples of how to effectively use social media for customer support. Each company uses a different strategy and tone; however, all are notable examples of how companies can offer up great digital support.
Starbucks Masters Response Time
Starbucks is an excellent example of how to combine great branding and customer experiences. Their presence on social media is no exception. The brand boasts 11.4 million followers on Twitter, 35 million followers on Facebook, and 17.4 million followers on Instagram. Especially for its competitors, that is a lot to keep up with. However, Starbucks is especially known for timely responses on social media. A report by Unmetric showed that Starbucks responded to 11k out of 34k tweets within one to six hours, and on average take about 14 hours to reply to a tweet. The brand responds to queries from 6:OO AM to 1:00 AM every single day of the week. That's dedication (perhaps fuelled by caffeine)!
Netflix Keeps it Fun
Netflix is a great example of a brand that truly understands its customer base. The brand pays close attention to viral trends related to their content and maintains a casual tone when interacting with its users. By making social listening a key part of their strategy, the media giant solves customer problems proactively. For example, the brand created Netflix Socks when they discovered many of their users were falling asleep while binge watching their streaming service and having to rewind content. The socks were designed to detect when the wearer had fallen asleep and pause their stream. The invention even won a Shorty Award for 'Creative Use of Technology.'
Spotify Puts its Best Foot Forward
Spotify is another brand that is providing excellent customer support on social. Their secret? Training. Customer service team members at Spotify begin by working on e-mail inquiries because they tend to be less urgent and more private. On the other hand, customers who reach out to a brand via social media tend to expect a faster response or have a problem that requires a more immediate solution.
Before a customer support agent is considered for a position on the social team, the employee must go through multiple rounds of training and several writing tests. This helps Spotify ensure that brand tone is consistent and appropriate on their social channels. Spotify also has a separate handle for customer service inquiries which helps decrease response times.
Wendy's is Going Viral
Wendy's thinks outside the box when it comes to their social strategy. When Kurt Kane, Chief Concept and Marketing Officer at Wendy's, first came onboard, he noted that "[there were] too many layers of approval. The team just didn't feel as empowered." Kane took a different approach by integrating departments and giving the social and customer support team a greater say in strategy. This resulted in the brand building out a uniform personality, identity, and tone that has many of their tweets going viral and being shared on sites like Buzzfeed. The company has invested more money into digital and social and their strategy on those channels has begun to inform the strategy on more traditional marketing channels like TV and print. The brand's commitment to developing a strong identity has made them a favourite with customers and given them a competitive edge over fast food titans like McDonalds.
When implementing a customer service strategy, a brand must have a strong, omnichannel approach to providing consumer support. A strong social media strategy can help support a call center by tackling simple and time sensitive matters from customers who are comfortable using technology. This lightens the load for call center agents and allows them to focus on more complex inquiries. When all channels, voice and social media included, are functioning well, both agents and customers benefit.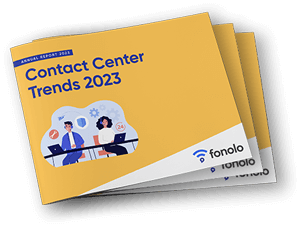 Trend Alert! Contact Center Industry Predictions for 2023
This report offers perspective on where the contact center industry stands today, plus our trend predictions for 2023.