This blog series explores two separate experiences related to the airline industry. In Round I,  we looked at our COO's experience with Air Canada. This week, Fonolo's Digital Marketing Manager describes his interaction with United Airline's pre-flight customer service. And the experience is quite different indeed.
While the airport and in-flight experience have United, Delta, and JetBlue offers guided meditations to help you chill out and destress, airlines have yet to find an antidote for their, politely put, inadequate customer service.
According to onholdwith.com, airlines are the second-worst offenders when it comes to hold times. Customer service has become such an issue for the industry that frustrated lawmakers have given airline industry executives an ultimatum: Improve customer service on their own, or congress will impose tough new customer service laws for them.
So, how can airlines get their pre-flight customer service experience right? While United Airlines is certainly guilty of customer service transgressions (broken guitars and lost children to name a few), a recent United Airlines experience highlights the power of going a little further.
After many Google searches of "How short is too short a connection time?", I decided that the 25-or-so-minutes I had to connect in Denver was not ideal (the updated connection time was due to a revised flight itinerary). A family reunion that Friday night in California was not something I wanted to miss, or be late for.
So, as many people do, I went straight to United's website to find their phone number. It's easy to forget how important the voice channel is, and it's even easier to forget the need to advertise your own telephone number. United have a link to their contact page displayed prominently on their homepage, an easy, and immediate, win.
The IVR was short and straightforward to navigate, requesting information like my name and confirmation number. There were no irrelevant advertisements and annoying music, one of my major IVR pet peeves. I'm not alone: Confusing menus and poorly tuned speech grammars all contribute to caller frustration and abandoned calls.
Most importantly, the hold time was less than five minutes. I cannot accurately express the frustration that I feel these days being on hold and knowing that there exist a multitude of ways to reduce hold-time. I spoke with an agent who provided a list of different options to choose from, with different departure and arrival times. I was able to choose a route with a similar arrival time and a safer connection time. The agent also offered to bump me up to premium economy on my new route. As Shep Hyken recently wrote, when it comes to taking care of customers, sometimes people go a little further than expected.
As my fellow flyer pointed out, many companies look at the call center as a cost center, rather than an opportunity to bolster their two most important assets: Brand, and customer relationship. The importance of having a strong brand and delivering a great customer experience seems obvious. In the above example, United Airlines earned some brand equity by doing a couple of small things well. It's not rocket science, but it is incredibly powerful.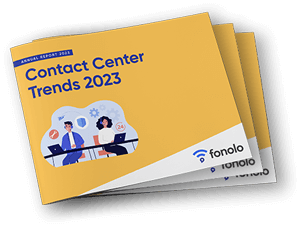 Trend Alert! Contact Center Industry Predictions for 2023
This report offers perspective on where the contact center industry stands today, plus our trend predictions for 2023.