Customer service is a serious business.
We know this better than anyone else: On a daily basis, we witness our customers working tirelessly to provide exceptional journeys for their own customer base. They are able to achieve greatness because of one important thing: They take service seriously, and in the long-run, this worldview results in success. Today, we bring are pleased to present you with one particularly inspiring success story, featuring a Canadian HVAC, plumbing, and water-heating service provider (and beloved Fonolo customer): Reliance Home Comfort.
Trusted by 1.8 million homeowners and businesses, Reliance Home Comfort is one of Canada's largest and full-service providers of heating, cooling, water heaters, water purification, plumbing, and protection plans.
The company serves over 1.8 million homeowners and handles around 160,000 calls per month. These impressive efforts are made possible by the 600 agents supporting the areas of sales, service, billing, moves, and escalations. As one can imagine, serving such a breadth of clients with a diverse range of complex problems often makes it difficult to ensure that all customers are fully serviced when they contact the call center –- especially without superfluous wait and hold times.
To address these issues, Reliance Home Comfort turned to Fonolo's call-back solution, and easily incorporated it into its existing Avaya-supported call center infrastructure. With this call-back solution, Reliance is now able to provide customers with the convenience of a call-back, especially during peak call times. Now, instead of customers having to wait on hold, they are given the option to "press 1 for a call-back" and Fonolo holds their place in line until the next Reliance Home Comfort agent is available to serve them. Providing the customer with a choice, empowering them to utilize their time as they see fit, while still receiving optimal customer service.
You can read the full Success Story here.
"At Reliance, we continually strive to provide our customers with an optimum experience. During times of high volumes, the Fonolo technology delivers another option for improved customer experience with the choice of a call-back rather than waiting in queue. We look forward to our continued partnership with Fonolo."
Virag Solanki, Leader, Reliance Teleservices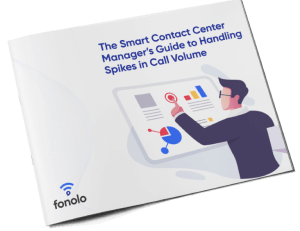 How to Manage Call Spikes in the Contact Center
Download this free guide to learn how to protect your contact center from call spikes.