More and more call centers are offering a call-back option as an alternative to putting customers on hold. At Fonolo, we see this trend through the increased demand for our own call-back solution. We also see it in survey results such as this report from Contact Babel last year. We just received an early copy of a new report, by Ryan Strategic Advisory, that surveyed 491 enterprise executives who had the decision-making authority of their company's contact centers. The data results show impressive growth.
About the Survey
This data comes from the "2019 Front Office BPO Omnibus Survey."
The first thing to note about this survey is how international it was. The image below shows the distribution of participants by country:
There was also good coverage across verticals, which you can see in the image below:
And now, the main result. The image below shows the proportion of call centers offering call-backs in each country: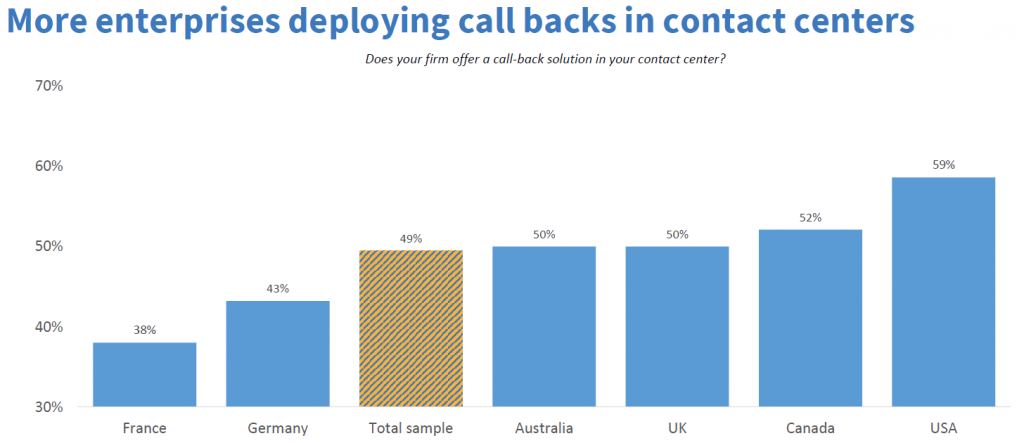 The US leads with 60% penetration. Canada, Australia, and the UK are all basically tied for 2nd place with 50%.
Comparing with the past
Ryan Advisory performed a similar survey two years ago, and it's interesting to compare the two results. In the US, it grew from 32% to 50%. Popularity in Canada and Australia basically doubled!
One word of caution: The survey does skew towards larger companies: 40% of the companies surveyed had annual revenue of over $1B. It's likely that a survey covering more of the mid-market and smaller call centers would have shown lower penetration. But it's reasonable to expect that similar growth trends would be seen there.
Motivations
Both this recent survey and the previous one asked respondents about the perceived value of call-backs. In both cases, the top two answers were "Competitive differentiator" and "Value-add for our customers." These are both great answers! But, as before, the answer "To improve call center metrics" scored fairly low (40% this year vs. only 35% two years ago). That tells me more education is needed in the market because call-backs certainly improve metrics like abandon rate, as shown by the following case studies:
Conclusion
It's great to see the industry adopting a practice that we, at Fonolo, have been preaching for many years. Our vision has been a world where a call-back is always offered as an alternative to waiting on hold. The guiding principle of our product has been to make it affordable enough and make deployment easy enough that any contact center – regardless of its size — would have no reason not to add call-backs.
Further Reading
From 2018: "Survey Shows Growing Popularity of Call-Backs Among BPOs"
Discover the Contact Center Trends That Matter in 2024
Dig into industry trends and discover the changes that matter to your business in the year ahead.