Back in 2009, Apple filed for a trademark on its buzz-worthy phrase, "There's an app for that." Almost a decade later, there's no shortage of apps cluttering up the Android and Apple marketplaces. While many factors are at play here, the growth of the mobile app market has been partly driven by the fact that more and more businesses are integrating mobile apps into their customer service strategies.
When it comes to travelling, people are increasingly reliant on their smartphones. From last-minute flight changes to on-the-ground local expertise, there truly is always "an app for that." With the Transportation Security Administration calling 2019 the "busiest summer travel season ever," these three customer-focused apps are not only worth downloading, but can provide valuable insights into what customers expect from businesses.
1. Airhelp
Anyone who has had to deal with a delayed or canceled flight knows that it can be a frustrating experience at the best of times. In a majority of instances, US and EU laws require the airline to provide compensation, though fewer than 1% of passengers ever receive it.
Airhelp effectively automates the process. All that is required from you is some flight information and details of the issue, and Airhelp takes care of the rest. They do take 25% of the payout if the claim is approved, but this seems like a small price to pay to avoid the nightmare of airlines' notoriously long hold times.
The Customer Service Takeaway: Customers want convenience on their terms, not yours. In fact, customer convenience is a key driver in loyalty. From Amazon Prime to Uber, people are using their mobile devices to free up their time. The future of customer service is about using technology to make tasks so easy that your customers can't remember how annoying something used to be. Airhelp is a perfect example of this in practice.
2. Trail Wallet
Sticking to a budget while traveling is a lot more difficult than doing so from the comfort of your home. Spending can fluctuate wildly from day to day and it's easy to abide by the motto: "Screw it, life's too short." Trail Wallet is an expense tracking app that is both comprehensive and intuitive to use. It allows you to organize and record your expenses, as well as switch between your home and local currency.
The Customer Service Takeaway: By calculating exchange rates and offering immediate insights into your expenditure, Trail Wallet takes away both a huge administrative headache and a nagging worry for people who are afraid of blowing their holiday budget. Trail Wallet is a perfect example of the power of anticipating your customers' needs. You almost certainly have access to the data that increasingly surrounds your customers and their interactions with you. Use it to better understand what they want and how they want it – and give it to them.
3. TripIt
To use TripIt, all you need to do is forward your confirmation emails to plans@tripit.com, and, in a matter of seconds, it will put your trip together. It builds your entire itinerary, including flights, car rentals, hotels, theater tickets, and dinner reservations. It also updates you with flight statuses and lets you know if cheaper or better seats can be found.
The Customer Service Takeaway: People today not only want the personal touch from customer service representatives—they expect it. While personalization is often seen as within the remit of marketing and sales departments, companies often fail to take advantage of this collected information to benefit the customer in a time of need – yet that doesn't need to be the case. Proactive service, as TripIt showcases, can have a substantial impact on customer service in two ways. Firstly, it's a delightful surprise to customers because it helps them avoid a problem. Secondly, if done well, it can help ensure the best possible experience for the customer.
The above customer service apps send the message that if there is a problem facing consumers, technology will come along and solve it. If you're not invested in solving your customer's issues, increasing the convenience factor, anticipating your customer's needs, and providing a personalized experience, there may soon be an app that does it instead. This is something to mull over as you put your feet up by the pool and order another Piña Colada.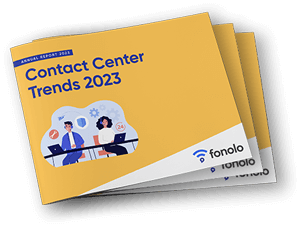 Trend Alert! Contact Center Industry Predictions for 2023
This report offers perspective on where the contact center industry stands today, plus our trend predictions for 2023.