Big question: How should text-based communication work alongside voice for customer service? In the dark ages, the only answer to this was email, in its own silo, and a call center, in its own silo. Then real-time chat came along. And then messaging, powered by massive platforms like Facebook and WhatsApp, made an appearance. Meanwhile, driving in its own lane, is good 'ol SMS.
For now, you can find companies trying any or all of these strategies. You can read success stories in each. But, at some point, it's likely that one of these channels will become the dominant companion to voice. By that I mean it will have enough critical mass that it's just assumed by consumers that any large company will offer it, in the way we assume any large company has a toll-free number and an email address.
Chat vs. Messaging
First, some historical context …
Chat gained popularity quickly when customers realized chatting could be more pleasant than calling; and companies realized that agents could handle multiple conversations in parallel (thus lowering costs).
But chat didn't live up to its early promises to become ubiquitous and replace phone calls. Chat primarily "lives" inside the company's website and this became a liability to adoption when smartphones took over as the dominant way consumers interacted with the internet. Yes, chat can be added to mobile web sites or to mobile apps, but along with the rise of smartphones came the rise of messaging platforms like WeChat, Facebook Messenger, WhatsApp, and others. Because of their massive scale, ease-of-use, and rapid consumer adoption, those platforms started to look like a better bet for businesses to use as a way to communicate with customers.
Although "chat" and "messaging" seem like minor variations of the same thing, there are actually important differences under the hood. There is a lively debate happening right now about whether which one will eventually triumph (or if they will just continue to co-exist).

For more, see the following articles:
"Amid Messaging Channel Jungle, SMS Stands Alone"
"Is Chat Eating into Phone-Based Customer Service?"
"Chat vs. Messaging Comes Down to Who Owns the Channel"
Recent Acquisitions Put Focus on Messaging for Customer Service
Recent acquisitions show that industry leaders are betting that messaging is going to be a big part of the customer service picture, hence a desire to shore up their in-house abilities.
Two weeks ago, ZenDesk acquired Smooch. Montreal-based Smooch (go #CdnTech!) developed an expertise in managing WhatsApp B2C deployments. WhatsApp has an extra layer of complexity, compared to other channels, because of its encryption requirements. Quoting from TechCrunch: "The deal underscores the big impact that messaging apps are making in customer service. While phone and internet are massive points of contact, messaging apps is one of the most-requested features Zendesk's customers are requesting …"
Another deal fitting this theme is RingCentral's acquisition of Dimelo. We talked about RingCentral's grand ambitions in this post: "Contact Center and CRM: A Galactic Merging" and this one: "The Top Contact Center Acquisitions of the Last 6 Months."
And one final deal to list is InTheChat (more #CdnTech!) getting acquired by PegaSystems (whose annual conference PegaWorld2019 is currently underway).
If you look at the marketing materials from all three of these companies, one recurring theme you will see is "Combine all the channels into one place." This is clearly a pain-point that many companies are feeling, and it's a way of spreading the bet among all the channels. But the subtext there is that messaging (via 3rd-party-platform) is the way forward rather than chat (via embedded-on-your-site widget).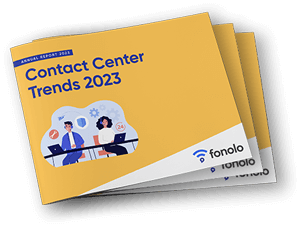 Trend Alert! Contact Center Industry Predictions for 2023
This report offers perspective on where the contact center industry stands today, plus our trend predictions for 2023.