One thing is clear: Everyone is talking about artificial intelligence (AI) these days. If you look at searches and mentions of AI online, you can see a clear exponential trend. While it was outside the top 100 search terms on gartner.com in January 2016, it was ranked #7 by May of the following year. This is also evident in the customer service space, where interest in popular AI tools (like chatbots) has grown.
It's clear that the way businesses communicate with their customers is changing, so it makes sense that, in order to adapt, forward-thinking companies are embracing cloud and AI-powered technologies. Recent advancements are enabling new ways to improve the customer experience through efficiency, personalization, and digitization. However, as the noise grows and the bandwagon gets bigger, it's easy to become confused. So, what does this all mean for customer service executives?
Let's Peek Behind the Curtain
A recent Gartner report suggests that 55% of established companies have either started making investments in the potential of AI or are planning to do so by 2020. Most of the excitement is due to two major capabilities:
1) Machine learning, and
2) Natural language processing (NLP)
In this live panel discussion, three industry thought leaders narrow in on the latter, focusing on speech analytics, NLP, and other AI tech. They discuss its impact on the customer service space and what the future holds. The ultimate purpose of this event is to help you clearly understand these technologies while demystifying AI and NLP in the process.
Join our panel discussion on Thursday, March 28th at 2:00 PM ET / 11:00 AM PT as expert panelists from Sparkcentral and Speakeasy AI provide clarity on this hugely important subject. You'll also be able to tweet your comments and questions to @fonolo with the hashtag #demystifyAI, or comment on our conversation streaming live on YouTube.
Here's a sneak peek at the slides!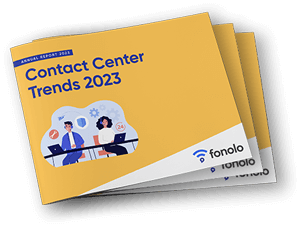 Trend Alert! Contact Center Industry Predictions for 2023
This report offers perspective on where the contact center industry stands today, plus our trend predictions for 2023.