Today's customers are savvier than ever before and one thing many of them are looking for is a custom experience tailored specifically to their individual needs. A study conducted by Forrester Consulting on behalf of Ada showed that personalized customer service has a variety of benefits for the company providing these customized experiences. Companies with personalized customer service see a decrease in operational costs, more efficient call center agents and higher levels of customer satisfaction and engagement.
Despite the clear benefits of personalized customer service, only 5% of companies said they were implementing customized experiences regularly. With so few companies jumping on the customization train, brands have a huge opportunity to set themselves apart. Let's take a closer look at some of the rewards you can reap by giving your customers that personal touch!
Save Time & Money
When you create a customer experience for your consumers, you are also empowering your call center agents with the information they need to provide the most efficient service possible. With access to a consumer's history, preferences and records of past interactions, an agent can resolve issues more quickly. Furthermore, they save the customer the frustrating task of repeating information they've already shared with the company in the past. Shorter calls, mean more tickets closed and more satisfied customers. Your clients and your employees will be happier and this is great for your bottom line.
Leverage Customer Information
In order to provide a custom experience, you'll need to keep track of relevant information about your customers. Many companies use Customer Relationship Managers or CRMs to do this effectively and efficiently.
The great thing about these programs, is that they allow you to leverage that well organized information in many ways. Customer information can be used by marketing departments to follow-up with a customer after they've made a purchase or to suggest related products they may enjoy. As discussed above, this information can also be leveraged during customer service calls to help empower your call center agent with all of the relevant information they need to resolve the customer complaint. As they say, knowledge is power!
Drive Loyalty
Today, when personalized customer service experiences are discussed, it is almost always in the context of AI, CRMs and machine learning. While new technology is a powerful tool to help provide personalized customer service, creating a custom experience does not necessarily need to involve cutting edge technology. For example, nothing is more frustrating than a conversation with a call center agent that is so scripted you almost feel as if you're not being heard at all. This makes the customer feel as if they are not a priority to the company they are interacting with. Very simple methods like, using a person's name, can go a long way towards making someone feel valued. Starbucks is a a great illustration of how this concept works in practice. The coffee chain recently began associating names with orders throughout their stores to provide a more personal interaction between their baristas and their customers.
Anticipate Needs
Let's consider a scenario, a company releases a pair of best-selling jeans, however, they notice that some customers thought the jeans were too small when they first put them on. In reality, the jeans just needed to be broken in and stretched out. A customer service team can flag this common problem and anticipate that a few days after delivery, many customers might be wondering if they had made a mistake purchasing said jeans. A well-timed e-mail to these customers with an explanation of the way the fabric molds to the body upon wear could help lower returns considerably. This is another great example of the power of customized communication with your customer throughout their purchasing journey.
We hope the above points help illustrate the importance of creating a personalized experience for your customers during every step of their journey with your company. While it may take some time to implement a personalization strategy, it is well worth the effort! Your company and your customers are sure to reap many rewards in the long run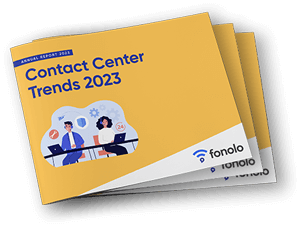 Trend Alert! Contact Center Industry Predictions for 2023
This report offers perspective on where the contact center industry stands today, plus our trend predictions for 2023.