Core tenets of customer service are timeless: For example, "know your customer" is still as important today as it ever was. If you know your customer, you'll know that consumer expectations have changed radically over the past decade, largely due to the development of new technologies. On-demand experiences provided by organizations like Uber and Amazon mean that efficiency and personalization are expected throughout all touchpoints of the customer experience. The bottom line is that consumer behavior is changing rapidly and businesses need to stay up-to-date with the new normal. After all, consumer patience is a finite resource. These five customer service faux pas will not only make your organization seemed outdated but ultimately harm your customer relationships.
Limited Self-Service Options
Now and then, the airline industry's inclination to automate everything, eradicating customer service interactions in the process, backfires. Online check-in, however, is one of the big wins and in recent years countless travelers have learned the benefits of using it, from choosing seat assignments to saving time at the airport.
The moral of the story is that making it easy for customers to help themselves is no longer seen as a cop-out or, worse still, a nefarious attempt to reduce labor costs. Instead, customers want to be able to find answers and resolve issues themselves. There are other positive externalities to this: If businesses can do this well, agents are free from the pressure of a growing queue to focus on the critical and high-value conversations that require more attention.
A Complete Lack of Personalization
From our Google searches to our social media feeds, the online experience is increasingly personalized.  Imagine then when a customer has to repeat information, again and again, to sometimes multiple agents. In a world where customers place the onus on the business to personalize the interaction from beginning to end, failing to do so even at a basic level is a major faux pas.
Making Customers Wait
When asking about a product or service, 66% of consumers expect a response to their query on the same day, and over 40% expect a reply within the hour. Convenience is critical to consumers, evident in the growth of eCommerce and offerings like Amazon Prime. Problems happen, we all understand that.
But when a customer calls for help, they expect to talk to someone immediately or be provided with an alternative option. People who get stuck on hold often turn to social media to vent their anger and share their frustration. Angry tweets should be enough to convince you that it's one of the new customer service faux pas.
Reactive Service
One of the top trends for customer service is proactive engagement or proactive customer service. Proactive customer support is about identifying and resolving customer issues before they become problems. Whether it's alerting customers to a mix-up with their delivery or another issue before they even notice is an excellent customer experience. The organizations that succeed are the ones that make personal connections with their customers and treat interactions as possible ways to add value. Proactive service is a great example of this.
An Inconsistent Omnichannel Experience
Customers see your business as a whole, not a combination of separate departments. This goes a long way in explaining why they have little patience for agents who have no record of a Twitter conversation they had with the brand. Customers don't want to have to repeat the same conversation with a number of agents. If you believe that customers will understand a breakdown in this communication chain, you are, unfortunately, mistaken.
The sooner that businesses accept that the new normal is focused on convenience, efficiency, and personalization, the sooner they will be able to focus on adding actual value. Consumers may expect more from you than they did before, but with the right technology, there's no reason why any business can't ensure these faux pas become truly outdated.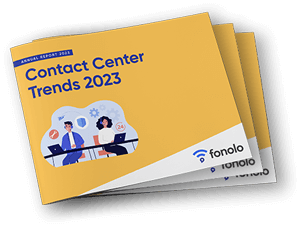 Trend Alert! Contact Center Industry Predictions for 2023
This report offers perspective on where the contact center industry stands today, plus our trend predictions for 2023.