Customer service has always been the linchpin that determined success or failure in the hotel industry. Whether it's housekeeping, restaurant and bar service, or events, members and stakeholders have always had to put customer service first to ensure the health of its bottom lines. With the emergence of Airbnb and its threat to hotel business, coupled with the evolution of technology and its role in the way guests enjoy their experiences, the industry is developing new customer service practices and applications to stay relevant. Tony Elenis, president and CEO of the Ontario Restaurant Hotel and Motel Association (ORHMA), spoke to the changing demographics and issues that are impacting customer service trends in the hotel industry.
JM: How would you explain the changes that have taken place when it comes to customer service trends in hotels today?
TE: It's always been about giving customers what they require and ensuring that we're meeting their expectations. I don't think anything has changed in terms of what we see. The only thing that's changed is how we deliver it and that's mainly due to technology. It's given the ability to engage with a customer much more than before. For instance, loyalty points [programs] are a huge draw in the data comes from [guests].
As a guest, the technology has given them options to communicate their needs and I anticipate that we're going to see more and more as we move forward.
JM: What do you see as the downfalls of those methods, as opposed to communicating with a human being for customer service-related needs?
TE: When you check in to a hotel [using optimized CS technology], there are no lineups, so you can just check in [using a kiosk or something similar]. Many customers and guests are very savvy with their devices now and, for the future generations, we're finding that more people would prefer to use [self-service] technology.
I think hotels somehow will fall into that; [there will be a time when] a customer will be able to just check in on their mobile device and go up and use it to open the door. That's the behavior we see from our customers — they want options. Again, you know, look at grocery stores. I would love to go to a grocery store and shop. I'm a foodie guy, right? I like to see the food. I like to know what I'm buying. But there there's so much growth now in ordering [online] now. You can either have it delivered at the store or be there to pick it up at your door. There's a lot of options in how customer service is delivered to the masses these days.
JM: Some of what you're talking about will allow companies to save money on labor costs.
TE: Workforce labor and revenue management are two things, but you're always going to need people on the ground to deliver quality customer service. Look at housekeeping teams: They are always going to be there, but the way they do their jobs has changed. Maybe they use mobile devices to keep track of rooms they've cleaned, or maybe they use it for other reporting tools to better improve the speed and accuracy of their work. People of all ages are more skilled in working with technology and if we reach the point, the room attendants have to use some type of a mobile device to do some checks and balances, and to communicate when the room is clean or whether it needs to be cleaned. We see some companies already offering that software to different housekeeping departments for hotels as well.
I think technology is going to offer more efficiencies, but the human touch still needs to be there, whether you're on the phone, or at a bar or places where people are still demanding some personality [from their customer service professionals].
JM: What else do you think is impacting customer service in the hotel industry?
TE: Social media. I would say the good and the bad about operating a hotel and using social media has become critical. You can reach so many people and you have to be able to use it right and capitalize on it. Do you train your own employees, or do you hire someone outside of the company to manage your social media [channels]?
Also, what we've seen lately is the new brands are more focused on technology. In the old days, you use to walk into a lobby where you'd be greeted by a customer service professional, but now there are more hotels where you walk into the lobby and it's not really a lobby anymore. It's a living room.
Down the line, I think sustainability will also be a key issue for young people and customer service professionals and hoteliers will have to cater to that.
Lastly, there are more hotel concepts that are answering the call as customer needs change, and I think that the rest of the industry will just adjust accordingly. It's no different than when the old motel hotels existed. All of a sudden, hotels came with swimming pools, right? Then they had TV sets and telephones in each room. That was new way back in the '50s, where it started because the customers demanded [those technologies and offerings]. Now, access to technology and cool new tools is what customers crave.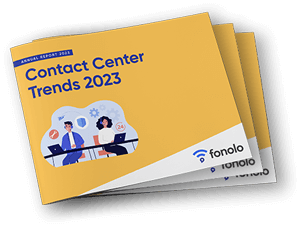 Trend Alert! Contact Center Industry Predictions for 2023
This report offers perspective on where the contact center industry stands today, plus our trend predictions for 2023.