Good training teaches employees in the customer service realm how to handle complex customer issues in the most efficient and customer-friendly way possible. This is important, as customer service is the touchstone for all kinds of customer-facing interactions. In training CS representatives, it's crucial to help them understand a) what they are doing; and b) why they doing the job. It's also important to encourage them to form strong relationships with customers through consultative communication, and ensure the customer is taken care of through the life of their relationship with a company.
Why Should I Care?
If you are in a customer service training scenario, you will undoubtedly be taught how to deal with issues brought to you via customer interactions. These interactions may be sales-related, or directly customer service-related, but either way, the situations are related to something the customer wants, needs, or desires. They may want to purchase an item, or they may be calling in to resolve a problem. Whatever the channel, the customer wants you to care about their issue. Training CS representatives to create a positive, caring environment for the customer should include recognition of problems and customers' issues. It does not take a great deal of effort to understand how important communication is within customer service. Indeed, communication skills are essential to building a strong customer relationship.
Here's a quick education, new customer service representatives: If a client or customer is present, you are representing the company. You are the first voice a customer hears, and therefore are key to resolving issues for the customer. This should not be taken lightly; you are there to solve the problems the customer may have, and these problems should be met with respect, empathy, and solutions. This is why your job is vital to repeat business and brand-building: It helps build relationships with customers that are long-lasting and rewarding for both the company and the customer.

Consult. Don't Sell.
A potential customer often drifts away when they realize they are trying to be hard-sold on something. If you take the approach of helping the customer understand how an item or service actually helps them, and aiming for transparency and truth during the interaction, you have a greater chance of nurturing relationships that are profitable for your business and beneficial for the customer. This is why consulting is so important.
Working collaboratively with customers can be an extremely rewarding experience if you have the right tools and the correct approach in tow. You can easily create a loving and successful work environment through learning the needs and desires of a customer. Are you helping them find what they want? Are you using all of your resources and training to help them? This is where proper training becomes fundamental in knowing how to handle issues that may not be typical, and should inspire outside-the-box thinking that results in good consulting and customer resolutions.
Good Training is Good Service.
Good training for customer service employees should focus on building and obtaining customer relationships through collaboration, and retaining the service of new customers. A company that retains its customers remains strong and employs the most effective ways to keep customers happy, no matter the channel.
Thing about it: Consider a time when you have had to call a customer service firm for something that wasn't working. How were you treated? Do you feel your issues were resolved? It comes down to a simple rule: Treat people how you want to be treated. Put yourself in the shoes of the customer and build empathy by understanding how your customer feels as they express their desire to resolve the problem. This is your greatest education.
Customers contact customer service for two basic reasons: They want to purchase something or they want to resolve something. For example, think of call centers: They are the front line of customer service interactions, and so it is essential to understand the importance of helping customers and how call center agents' efforts represent the larger company. Call centers agents (or customer service agents) are not simply programmatic voices on the end of a line: They are brand ambassadors, and these ambassadors should be trained to know how important they truly are in the life cycle of a business, based solely on their interactions with customers.
A solid customer training program will go a long way in instilling these values and best practices, those which keep customers happy, and businesses alive.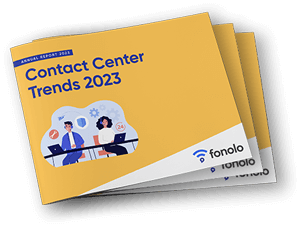 Trend Alert! Contact Center Industry Predictions for 2023
This report offers perspective on where the contact center industry stands today, plus our trend predictions for 2023.