In the age of disruption, Ryanair may best encapsulate the contrarian, rule-breaking streak sometimes required to conquer an antiquated industry. Just before the turn of the millennium, Ryanair was a tiny, impoverished Irish airline competing with the national carrier, Aer Lingus. As recently as 2017, it was the most profitable airline in Europe, operating 2,000 daily flights from 86 bases. Although the blue and saffron airline has recently hit a spot of turbulence largely thanks to Brexit – announcing 900 job cuts and a 21% drop in quarterly profits – the airline offers a fascinating case study in customer service maturation. This is the oft untold story of how Ryanair cleaned up its notorious customer service reputation by putting the customer first.
An Image Problem
The bombastic Ryanair boss Michael O'Leary declared in 2011, "there hasn't been a war in Europe for 50 years, because they're all too busy flying on Ryanair. I should get the Nobel peace prize – screw Bono." While O'Leary considered himself a saint, the public saw him as more of a braggadocious sinner. As much as flyers loved the low-fare offerings of the airline, the image of the Airline was problematic to say the least, inspiring more than one or two customer service jokes.
Passengers were charged for checking in luggage and in-flight food, the possibility of coin-operated toilets was considered, and the idea of charging passengers to watch porn was even floated. The company's customer service philosophy could be best summed up by this quote from O'Leary: "Anyone who looks like their sleeping, we wake them up to sell them things." Despite the airline's impressive growth, by 2013, Ryanair was considered to have "the worst customer service out of Britain's 100 biggest brand".
From Mr. Hyde to Dr. Jekyll
It's often said that "money is the root of all evil". However, in the case of Ryanair, a dip in profits in 2013 motivated some beneficial soul-searching. The low-cost carrier became determined to shake off its negative image and to "fix the things customers didn't like". The charm offensive focused on relaxing its strict hand luggage rules, scaping some customer fees including charges for not printing out boarding passes as well as the introduction of allocated seating. The airline focused on the entire customer journey, even revamping its online booking process so that you weren't as easily tricked into accidentally renting a car and booking a hotel room. Subsequently, the company reported that 92% of customers surveyed were happy with their overall flight experience.
It Pays to be Nice
As Dale Carnegie wrote, "success in dealing with people depends on a sympathetic grasp of the other person's viewpoint." Ryanair listened to their customer's gripes and did away with some of their most egregious policies. The results? Ryanair managed to attract nearly three times the predicted number of additional passengers and its net profit increased 66 per cent. Michael O'Leary, not one to mince his words, summed up the strategy as essentially "being nice".
Ryanair's changes weren't sweeping and therein lies the moral of the story: Small tweaks can have big rewards. It's a reminder to organizations that incremental improvements to customer service can have outsized benefits. Unfortunately, these incremental changes weren't enough to net O'Leary his Nobel Peace Prize (yet).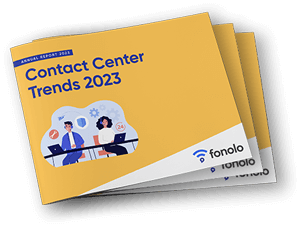 Trend Alert! Contact Center Industry Predictions for 2023
This report offers perspective on where the contact center industry stands today, plus our trend predictions for 2023.