Retail is transforming at an increasing rate, and more than ever. Advances in Artificial Intelligence (AI) are changing interactions between customers and brands and are allowing many of these processes to become automated. However, despite these rapid changes, many customers still prefer interacting with an actual person, whether it's in store with a floor representative, or on the phone with a call center agent.
But how do we educate ourselves on current customer service practices when the rate of change is near impossible to keep up with? Well, podcasts are a great way for managers and retailers to keep up with the latest trends and strategies in the service vertical. Here are a few suggestions of customer service podcasts we love, and you will, too. They present the latest in customer service research in clear and comprehensive ways, and provide guidance on how to apply this research to improve the experience for your consumers.
Repeat Customer
Repeat Customer is a podcast by Zendesk, a customer service software company based in San Francisco. Although Zendesk is an online software, their podcast imparts customer service wisdom that any service industry employee, from call center agent to restaurant server, would find useful. The podcast features interviews with customer service leaders from world-renowned companies like Shake Shack, Sephora, Slack, Flywheel, Disney, and Hinge. You'll be learning from the best of the best with this selection.
Creating Disney Magic
Speaking of the most magical place in the world, Disney happens to have its very own podcast, hosted by former Executive Vice President of Walt Disney World, Lee Cockerell. He touches on all aspects of company operations with a focus on leadership, management, and customer service. If you're ready to create a little magic for your customers, this is the podcast for you.
The Intuitive Customer
Knowledge of psychology is key to understanding consumer behavior – anticipating their needs and providing a top notch experience. That's why we love The Intuitive Customer presented by Beyond Psychology. The podcast is hosted by Colin Shaw, a thought leader on customer service and marketing, and Ryan Hamilton, marketing professor and Emory University. The hosts discuss behavioral economics which examines how psychological, cultural and social factors impact economic decisions of individuals and institutions. You'll definitely want to add this podcast to your rotation.
The Modern Customer
If you're looking to stay ahead of the customer service curve, this is the podcast for you. Hosted by Blake Morgan, a customer experience 'futurist', this podcast dives into modern approaches to customer service. It features companies on the cutting edge of digital transformation including Nordstrom, Comcast, and Citi. This podcast will definitely help you and your team stand out to current and future customers.
Keeping up with the immense changes occurring in the customer service industry can be extremely daunting. Staying informed and educated is a great way to ensure your team continues to provide the experiences today's modern customer expects. So, pop in those headphones, make the most of your commute, and hit play on one of our podcast suggestions.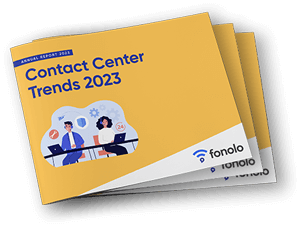 Trend Alert! Contact Center Industry Predictions for 2023
This report offers perspective on where the contact center industry stands today, plus our trend predictions for 2023.