Want to order pizza for dinner? It will be at your door in 30 minutes. Looking for a date? An app can help you find that special someone. Need some work done around the house? You can summon a handyman that same day. In today's world, we don't have to wait too long for just about anything.
Today's consumer doesn't just want same-day delivery, they want same-day resolution to any inquiry or complaint they make with a company. According to a report by HubSpot, consumers want service that is both fast and personalized. This means that customer service teams and call center agents are tasked with rapidly resolving tickets without letting the quality of their service drop.
Here are a few strategies that can be implemented to ensure that customers experience a resolution that is both quick and satisfactory.
Omnichannel Customer Service
Everybody loves options. Maybe a customer is at home and would prefer to reach a call center to discuss a resolution to their issue. Meanwhile, another customer may be multitasking at work and would prefer to reach out via a LiveChat service. Meanwhile, maybe a third person only has a few minutes to fire off an e-mail before heading onto a plane with the hopes of receiving a response by the time they land.
There are many benefits to an omnichannel approach. Companies that take an omnichannel approach to their customer service resolve tickets 40% faster, handle 63% more tickets, and engage with 3.3 times as many customers. Make sure your customers have options.
Provide Customers with Self-Service Options
Any call center agent will tell you that they receive the same questions from customers over and over again. These calls could be easily diverted to self-service options, freeing up the time of call center agents to handle more complex issues that require a conversation.
Not only does self-service help customers find solutions faster, many customers prefer to have the option to find answers for themselves without having to interact with a customer service representative. A simple FAQ page is a great place for companies to start with oft-asked questions.
Empower Your Employees
Nothing is more frustrating than being diverted through an endless number of transfers from one call center agent to another. These types of delays often occur because employees don't have the authority to offer a satisfactory solution for a customer. Ultimately, this leads to a lower customer satisfaction rate, as well as longer wait times to have complaints resolved or questions answered.
Empower your front-line customer service representatives. As CEO of Virgin America, David Cush, says, "It's better to ask forgiveness rather than permission. If you think you need to do something, do it, and we'll sort it out later."
Implement Call-Back Technology
Our last suggestion will likely come as no surprise: Implement call-back technology in your call center. Nobody likes to wait on hold, no matter how mesmerizing your on-hold playlist might be. Having your customer wait on the line while you assist someone else sends the message that you do not value their time. Don't make this mistake. Ensure that the time your customers are spending with you on the phone is productive for both the consumer and the agent.
Only 30% of companies say their approach to customer service has changed in the past five years, which is likely why so many brands are struggling to keep up with the demands of the modern consumer. Customer service teams must learn to work smarter, not harder, to achieve better results. With the right tools and strategies in place, your team can tackle tickets rapidly and effectively.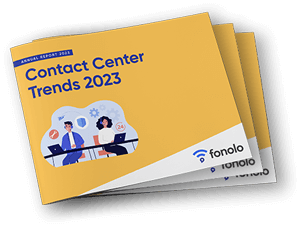 Trend Alert! Contact Center Industry Predictions for 2023
This report offers perspective on where the contact center industry stands today, plus our trend predictions for 2023.