For me, the soul of pre-21st Century customer service can be captured in three poignant words:
"Are you free?"
These immortal customer service dew-drops I heard echoed many times via the television set on the Saturday nights of my youth when PBS would play Are You Being Served? as part of its BBC comedy lineup. "Are you free?" is one of the most used phrases in the series, a way the staff alert one another to the fact that a customer is in need of immediate assistance. "Yes, I'm free," they usually respond, then rushing to the customer's aid.
"Are you free?" signals the kick-off point of a larger, tried-and-tested, personalized customer service procedure that eventually ends in a sale, usually of the latest and greatest in ladies' wear or haberdashery.
It's classic.
This campy, comedic, decidedly 'of-its-time' sitcom offered a transparent satire of memorable customer service counter staff working for "Grace Brothers," a fictional department store set in the bustling metropolis of London, England.  Now, while this was a fictionalized account of mid-Century English commerce, there is usually some minute truth in fiction. The series was inspired by series co-creators Jeremy Lloyd's and David Croft's experience working in department stores like Simpsons of Piccadilly and Rossiters of Paignton in the '50s and '60s. The result is a memorable comedy that inherently provided insights, via satire, into standard customer service practices and values around interactions in the marketplace at the time. But times have changed – and even the oldest-and-goldest retail giants are faced with one great mission: Please an ever-changing customer base that desires a) more personalization; b) multiple channels for contacting support; c) online offerings to rival Amazon; and c) relevance to their increasingly 'online' lives.
Somehow, a few of the world's oldest brands are surviving. But how? And where can they improve? Here we outline three mature British and North American brands that are living proof of how agility in customer service, and keeping the client and their experience and product desires top of mind, can help a brand squeak past the Century mark, even in the most troubling of economic times. The main takeaway?: There's a lot of work to do.
Britain: Marks & Spencer
I still mourn the passing of Marks & Spencer stores in Canada (where I reside): Their soup and their socks were things to be treasured. But after seeing with my own eyes the busy M&S stores on the high streets of London and Edinburgh on a recent trip to the UK, it became clear that this brand is still going strong across the pond, even in spite of news last year that it would shutter 100 or more stores in the next two decades.
Marks & Spencer has been kicking around since 1884 (the product of a partnership between Michael Marks and Thomas Spencer), a department store offering anything from galoshes to groceries. But part of the brand's ongoing life is due to its incorporation of online shopping to meet the needs of the connected, remote consumer. While the in-store experience is still a going favorite for many Brits (and beyond), many make use of M&S's online grocery shopping offering, which they began testing in 2017. That being said, like many the modern retailer, Marks & Spencer must take steps to modernize its products in order to meet customer demands. As this article from The Guardian points out, "The website is notably lacking in style, while the clothing side of the business as a whole still struggles to present a coherent sense of purpose." They must also make some fairly significant strides in their customer service and experience offerings: As they have been doing, M&S is best to look to the Tescos and John Lewises of the world and how they are achieving success in meeting customers in the digital space. An online shopping and delivery option is a solid start, but the beloved British brand can make some strides in offering real-time customer support channels beyond simple phone and email.
British brands are slowly but steadily improving their customer experience, with retail and financial services leading the way.
Canada: The Bay
The Hudson's Bay Company, now known as 'The Bay,' is a staple of Canadian retail, with its roots in fur trading in the 1600s. Now a brand beacon in malls and on main streets across Canada, the company has over the past several centuries cultivated a strong brand identity, ever-present in its HBC line which boasts the bold green, navy, red, and yellow stripes that are identifiable internationally. It, like many retail giants, remained agile in implementing online shopping, and offering customer support via several channels including voice, email, and live chat (which admittedly sometimes doesn't work so well):
After seeing the fall of retail giants that once had great success in Canada (namely Sears and Eatons), Bay strategists invested in a major brand modernization that could meet the modern customer via higher-end and international product offerings (not to mention that it acquired the high-end American brand Saks Fifth Avenue). Most notably, the Bay created a responsive website that allows customers to purchase remotely, and access a more diverse selection of products given its new acquisition. Like many the brick-and-mortar retail store, The Bay is still facing losses, but there is evidence that the centuries-old company is listening to its customers' purchasing habits and adjusting accordingly:
The owner of Saks Fifth Avenue has booted out 300 "unproductive" brands from its Canadian department store chain, known locally as "The Bay."
Remaining agile is what The Bay is continuously trying to do, reinventing itself and responding to customer behavior with immediacy. Given the recent announcement of a grave second-quarter loss, it remains clear that the Canadian company must remain steadfast in its customer service and channel offerings as, "Like other brick-and-mortar stores, it has had to fend off fierce competition from e-commerce behemoths like Amazon.com Inc as shoppers migrate online."
USA: Lord & Taylor
On a related note, in addition to HBC's expulsion of 'unproductive brands' that customers are not engaging with, it announced in August that it would be selling its current holding, Lord & Taylor, which incidentally is a more than the century-old brand, but this time hailing from the United States.
Lord & Taylor is, to the best of my knowledge (and Wikipedia's), the oldest department store in the United States. Founded in 1824 by Samuel Lord as a dry goods business (and later renamed as Lord & Taylor when more of his family joined the business), the company remains a staple in American retail and enjoyed many years of profit in the malls and on the main avenues of America. Its journey will be interesting to watch, given that its survival of late has been inextricably linked to transactions with some familiar companies.
From a customer service perspective, the acquisition of Lord & Taylor by Le Tote (a Silicon Valley clothing rental service) is a prudent move:
Under the agreement, Lord & Taylor puts Le Tote on the map while the tech company gives the department store a chance to be relevant again, infusing it with cutting-edge technology in customer service … The idea is to allow shoppers to return their rentals to Lord & Taylor stores and pick up new ones at the stores … Likewise, Le Tote plans to introduce proprietary technology that helps customers with styles and fits.
In essence, perhaps the Silicon Valley-based Le Tote will truly revolutionize customer service, personalization, and overall product offerings for Lord & Taylor; at the outset, the shrewd emphasis on improved customer service at Lord & Taylor as a guiding principle for this acquisition is, I think, the right move in this highly competitive industry.
There are so many more established brands that have survived the years by innovating their product suites as well as their customer service strategies. Which long-standing brands have stood the test of time and remained relevant and supportive to customers, year after year? Tell us by commenting below! "We're free."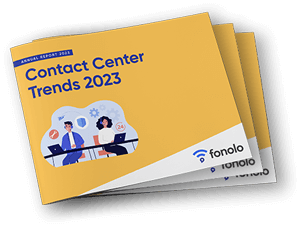 Trend Alert! Contact Center Industry Predictions for 2023
This report offers perspective on where the contact center industry stands today, plus our trend predictions for 2023.