People like shiny new things.
The same cannot always be said about pesky new software updates and releases to the platforms and apps that have become fixtures in both our personal and professional lives.
Good-natured developers and designers may have the best of intentions, arguing that their changes take us to a new, higher state of being where everything and everyone is better.
The problem is that these changes are often unpopular, sometimes to comedic levels – except that for the customer, it is no laughing matter.
Just read this tweet on a major – subsequently reversed – update to Instagram's feed:
Having worked in the tech space for the entirety of my career, I fully understand the rationale behind these updates. Whether it's legacy tech that needs replacing or external pressure to expand into a new area, these decisions are not made lightly. To be sure, they require a massive amount of work and investment.
So, when it became clear that Fonolo was being forced to transition to Salesforce's new and improved platform, Lightning, I knew that it might be painful. Still, I decided to put the best foot forward and tackle the project with enthusiasm. For one, Lightning looked more modern and intuitive. As a long-time Salesforce user, I found the Classic UI to be clunky and outdated compared to more modern martech and sales applications.
Plus, Salesforce has done a good job with its Lightning Transition Assistant. I watched the related videos and read the collateral, appreciating the fact that there was a clear path to follow. It was heavy on marketing-speak and light on details, but I understood Salesforce's need to get me enamored with Lightning before I got firmly into the weeds.
The first snag was my attempt to run a "Readiness Report," a document that would notify me of what I needed to do to transition our organization (useful sounding, right?). Every time I attempted to run the report, I got an email with an error message telling me to contact Salesforce customer service team.
You Don't Need to Delight Customers
A lot of customer service thought leaders talk about "delighting" their customers. This focus may be misplaced. Harvard Business Review research shows that customer loyalty has a lot more to do with how well companies deliver on their basic, plain-vanilla promises. In this instance, my goal was simply to get access to this report that I was told was important to our company.
Over two phone calls, it was established that the root cause of the error message was a "known issue." The customer service agent proceeded to then call everyday and update the case, despite it still being a known issue. It was eventually communicated to me that "there was no ETA for the issue to be resolved." From reading through their community forums, this seems to be commonplace.
Given how disruptive it is to our company to update a core, embedded technology like Salesforce, their indifference to a bug in their Transition Assistant is hugely disappointing. It certainly is not conducive to building confidence or loyalty.
What's the Takeaway?
Several months ago, I was at the Salesforce Trailblazer event in Toronto marveling at the expense and logistics of the one-day event. It seemed that they were aiming to delight their customers and create even more Salesforce evangelists. The problem is that when it comes to service, companies create loyal customers primarily by helping them solve their problems quickly and easily – not by giving them free sandwiches and t-shirts.
Some companies have gone even further, making low customer effort the cornerstone of their customer experience. For example, South Africa's Nedbank instituted an "AskOnce" promise, which guarantees that the rep who picks up the phone will own the customer's issue from start to finish.
After all, we buy from a company because it delivers quality products, great value, or a compelling brand. We leave one, more often than not, because it fails to deliver on customer service.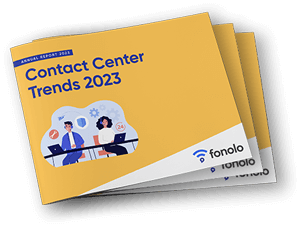 Trend Alert! Contact Center Industry Predictions for 2023
This report offers perspective on where the contact center industry stands today, plus our trend predictions for 2023.