When you work in a call center, an unexpected call volume spike can quickly become problematic. If these spikes are not handled properly, customer loyalty can be lost.
While many call centers expect call volume spikes during particular times of the year (for example, the holidays), there are some increases in volume that cannot be foreseen. Perhaps you're a retail company and a piece of your clothing was recently featured on a celebrity and now everyone wants their hands on it. Or, you might be a bank dealing with a major data breach. Alternatively, a car company who recently announced a recall might receive a high volume of calls from owners of the model in question.
The good news is that there are many ways a call center manager can prepare for the unexpected. Let's take a look at a few strategies that can be implemented when an unexpected surge in volume occurs. With these tips, and a few deep breaths, you and your team will be back on top of things in no time.
Be Transparent and Proactive
Transparency in customer service is always a good policy; this is especially true when things get a little chaotic. If service has been disrupted in some way by an outage or a natural disaster, be proactive and transparent about it. Reach out to customers via e-mail to apologize, explain the situation, and provide an estimate on when service will resume.
It is also helpful to funnel customers to channels where they can find help. This rule does not only apply to situations like service outages. If, for example, interest in a specific product has surged, send an e-mail explaining that the product in question is sold out and share details on pre-sale or restocking.
By sharing information and answering key questions proactively, you can decrease the number of calls your agents have to handle. You will also decrease customer frustration by reaching out to your customers before they are forced to reach out to you for answers.
Technology Can Help with Call Volume Spikes
If your call center team is feeling overwhelmed by the volume of calls they are receiving, make sure that you are leveraging the appropriate technology to support them. For example, call-back technology can be helpful at decreasing customer frustration by ensuring that they are not forced to stay on hold while they wait for an available agent. Interactive voice technology can also be used to help funnel calls to the appropriate channels and share relevant information.
Use an Omnichannel Approach
An omnichannel approach is another customer service 'best practice during' both regular periods and call volume spikes. Ensuring that there are multiple channels in place like SMS messaging, live chat,  and e-mail can ensure that call center agents don't receive the brunt of the influx. When all these channels are functioning seamlessly, brands typically see an increase in customer satisfaction and faster resolution of tickets.
Find Extra Help When Call Volumes Spike
When all else fails, it's time to call in backup. There are a few ways companies can do this successfully. One method is to re-engage employees who may have moved on from customer service roles but have the basic training required to field calls, e-mails, and messages. If that does not provide adequate support to the customer service team, additional help can be outsourced. In order to ensure that this outsourced help provides the same level of customer service as your internal team, managers can prepare a training document ahead of time to help get the external team up to speed as quickly as possible.
Things don't always go as planned and there are certain factors that will always be beyond a company's control. But, with a little foresight and strategy, customer service managers can help prepare their representatives for the unexpected. Both teams and customers will be grateful.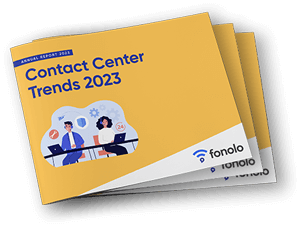 Trend Alert! Contact Center Industry Predictions for 2023
This report offers perspective on where the contact center industry stands today, plus our trend predictions for 2023.